Drop-in Biofuels Take Flight in Commerce City, Colorado
Developing a robust, self-sustaining biofuels industry is key to our efforts to end U.S dependence on foreign oil and to ensure a secure energy future. A crucial step in advancing a domestic biofuels industry is to establish integrated biorefineries across the country.
Biorefineries are similar to petroleum refineries in concept; however, instead of relying on petroleum or other fossil resources, biorefineries use organic matter to produce a variety of fuels, bioproducts, and chemicals, as well as heat and power.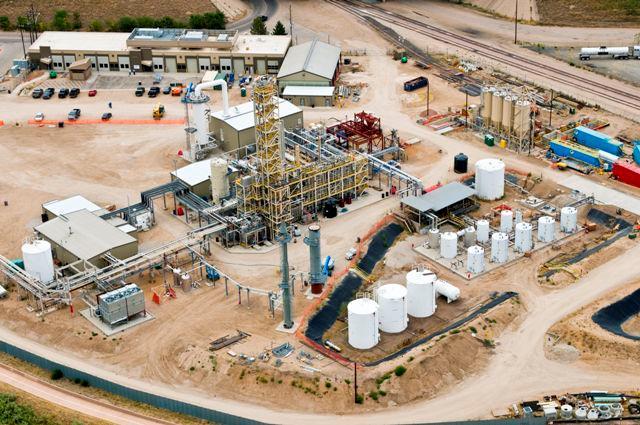 An aerial view of Rentech's Product Demonstration Unit (PDU) in Commerce City, Colorado. | Photo courtesy of Rentech.
The Energy Department's Office of Energy Efficiency and Renewable Energy works in partnership with industry to develop, build, operate and validate integrated biorefineries across the country at various scales (pilot, demonstration, and commercial). One such project, led byClearFuels-Rentech, recently celebrated the completion of a pilot-scale, biorefinery in Commerce City, Colorado.
Built with funds from the American Recovery and Reinvestment Act, the pilot-scale facility will convert wood waste, agricultural residue, and bagasse—the unused portion of sugarcane-- into renewable diesel and jet fuel. ClearFuels has developed a process to thermochemically convert a variety of feedstock types—utilizing a combination of heat and chemicals to produce fuel. The "drop-in" biofuels produced at the facility will provide a direct replacement to petroleum-based diesel and jet fuel, without any need for changes to existing fuel distribution networks or engines. That flexibility will allow commercial and military planes to transition to a clean, domestic fuel source that not only reduces their environmental impact but also boosts national security by providing them with a domestic alternative supply.
This project is at the pilot scale, processing 20 tons of feedstock per day, which is an important step in scaling up the technology. The facility will lead to a final engineering design that can potentially be duplicated, which could result in multiple, large commercial-scale projects throughout the southeastern United States and Hawaii – creating jobs and fostering energy independence across the nation. The biorefinery is expected to begin producing certified renewable fuels sometime this month, making it one of the earliest Recovery Act-funded integrated biorefinery projects to start operations.
This biorefinery is just one example of how the Biomass Program is helping transform the nation's renewable and abundant biomass resources into cost-competitive, high-performance biofuels, bioproducts and biopower. To learn about their full portfolio of projects, visit the program website.
Department of Energy - © Copyright 2021
National Law Review, Volume I, Number 343