Greatest Challenges to Corporate Growth in 2013
Over at the Innovation Excellence, they are posting a multi-part series on a recent survey of chief strategy officers. The latest part looks at how the average CSO spends their day. There is some bad news for those risk managers who continue to hope that the siloed mentality of companies may be changing: The survey found that chief strategy officers spend just 8% of their time thinking about cultural change.
Well, if they aren't thinking about it, who would be?
Alas, while great strategy can continue to spur growth, it seems that the status quo is tough to change.
Additionally, however, risk managers should be able to benefit from understanding what CSOs view as the toughest challenges to corporate growth in 2013. The chart above shows that, yet again, changing behavior (this time, customers') is the biggest hurdle while volatility (chiefly in the political environment followed by uncertainty in the financial markets) makes up the next two largest challenges.
Increased competition and changing technologies round out the top five.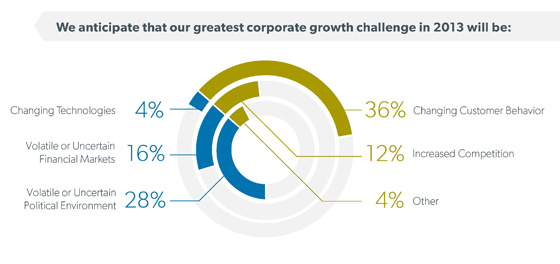 Risk Management Magazine and Risk Management Monitor. Copyright 2023 Risk and Insurance Management Society, Inc. All rights reserved.
National Law Review, Volume III, Number 58