Spotting Coronavirus-Related Phishing Emails
Amid widespread public concern and constantly evolving news about the COVID-19 pandemic, cybercriminals are finding new fodder for phishing campaigns. With the eagerness for new information about the coronavirus outbreak, distraction during disruption, and the disorienting shift to remote work for many, employees may be particularly susceptible to falling for these schemes right now.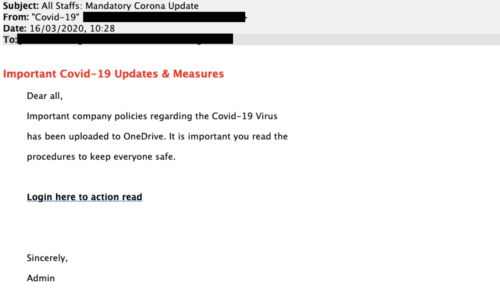 Some of these phishing emails play off companies having employees work from home to launch credential-stealing attacks. Such phishing campaigns may impersonate IT teams or may direct recipients to fake login pages to access work networks or accounts remotely. See the screenshot at right for an example. Email security firm Mimecast's Threat Intel team reported seeing over 300 examples of such a campaign using a fake OneDrive login.
"We see that threat actors are keeping up with the daily developments concerning the coronavirus," said Mimecast's Threat Intel team. "As the pandemic continues to spread and more and more people are made to work from home, we are seeing more phishing emails that are trying to trick users into giving their credentials through a faked login page. Threat actors are actively utilizing this pandemic to attempt to compromise individual's accounts and organization's networks. The potential for human error will inevitably increase in the coming weeks and we expect to see more of these phishing attempts in the coming days and weeks."
Other phishing scams purport to be new updates from government authorities or public health organizations, directing recipients to click malicious links for updates on the spread of the COVID-19 pandemic, new containment measures ordered by governments, or local advisories. Last month, the World Health Organization warned that some criminals were spoofing WHO officials to send fraudulent emails, and Kaspersky Labs reportedly found emails spoofing the CDC asking for Bitcoin donations to help fund a coronavirus vaccine. Some other phishing emails include malicious attachments purporting to be tips for protecting yourself from the coronavirus or maps of the outbreak, for example, but actually contain malware.
"We are living in a heightened time of cyberrisk," said David Simpson, Virginia Tech professor and former chief of the Federal Communications Commission's Public Safety and Homeland Security Bureau. "Cybercriminals will take advantage of public fear and due diligence health measures to generate coronavirus-themed phishing attacks. We should be aware of unsolicited COVID-19 emails with specious links or attachments."
To help employees detect these scams, check out the following infographic from Cofense's Phishing Defense Center for tips on spotting coronavirus-related phishing emails: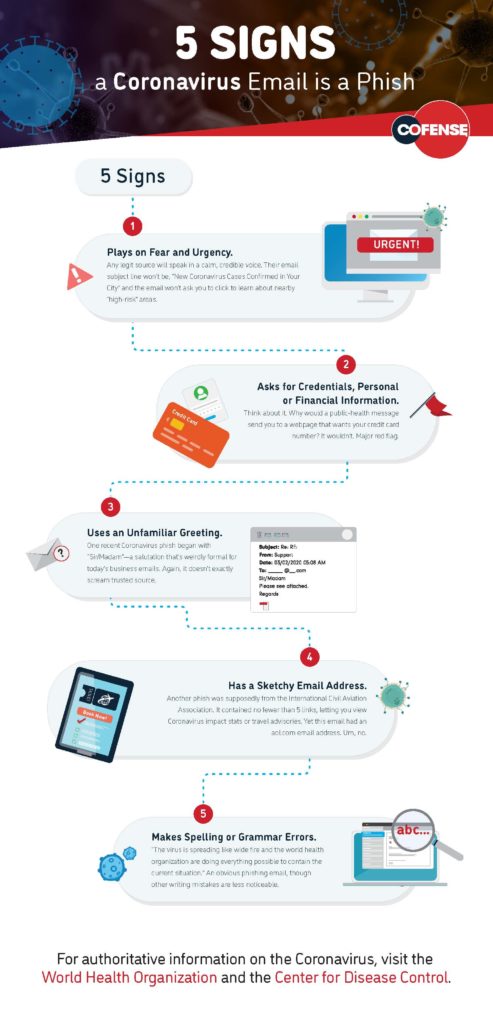 Risk Management Magazine and Risk Management Monitor. Copyright 2023 Risk and Insurance Management Society, Inc. All rights reserved.
National Law Review, Volume X, Number 79