Another Active Hurricane Season Expected in 2013
With the start of the Atlantic hurricane season only two weeks away, experts across the board are predicting another active season. Today, AccuWeather.com released its findings calling for 16 named tropical storms, eight hurricanes and four major hurricanes. They expect three hurricanes to make landfall in the United States. These numbers are all slight increases over the average numbers recorded by NOAA from 1981-2010 and are comparable to last year's activity.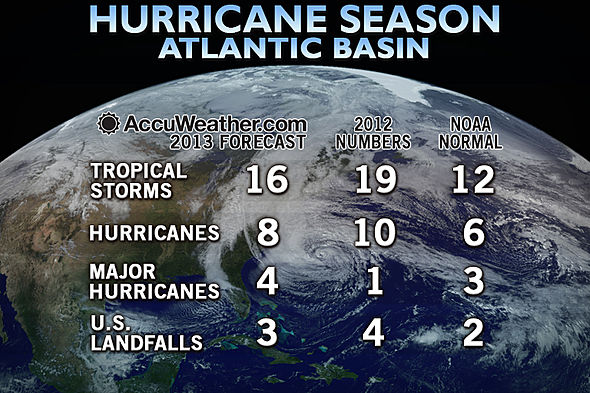 According to AccuWeather, the season should begin quickly after June 1, but isn't anticipated to start as early as 2012 when two named storms appeared in May. However, 2013 could see stronger storms than last year due to the reduced amount of Saharan dust in the air, which can inhibit a storm's severity.
In the May issue of Risk Management, Jared Wade wrote about how Floridians feel like they're overdue for a hurricane having not experienced a landfall since Wilma in 2005. In addition to echoing that concern, AccuWeather.com Expert Senior Meteorologist Dan Kottlowski said that one of the biggest fears regarding the upcoming hurricane season is the effect another major storm would have on the East Coast regions that still haven't entirely recovered from Superstorm Sandy. Many areas still haven't rebuilt the protective sand dune barriers that were washed away by Sandy, so another storm would put already reeling communities at an even higher risk for more flood damage.
Overall, AccuWeather's numbers have been in line with forecasts by other organizations, suggesting that an active season, at least to experts, is almost certain (or at least as certain as any weather forecast can be).
For instance, the United Kingdom's Met Office expects 14 named storms, nine hurricanes, while in April, Colorado State University's Philip Klotzbach and William Gray predicted 18 named storms, nine hurricanes and four major hurricanes, and Weather Services Internationalforecasted 16 named storms, nine hurricanes, and five major hurricanes.
Risk Management Magazine and Risk Management Monitor. Copyright 2022 Risk and Insurance Management Society, Inc. All rights reserved.
National Law Review, Volume III, Number 140