BP Oil Spill Claims Reach $1.6 Billion
June 14th, BP announced that the Gulf of Mexico oil spill has cost the company $1.6 billion. The London-based company said that included in the $1.6 billion figure were payments of $62 million that have been paid out to 51,000 claims. The figure also includes "the cost of the spill response, containment, relief well drilling, grants to Gulf states" and federal costs.
With several years (or decades, even) of cleanup ahead, the $1.6 billion is seen as a merely an initial cost figure. Credit Suisse actually estimated the total bill at $37 billion.
President Obama, who has been criticized for what has been perceived as a lack of urgency towards the situation, has announced that the government wants BP to set up an independently managed escrow account to compensate those with damage claims.
A majority of the Senate called on BP to set up a $20-billion account, administered by an independent trustee, to pay for cleanup and economic damages from the massive gulf oil spill, "ensuring that there will be no delay in payments or attempt to evade responsibility for damages."

The letter was signed by 54 senators, almost the entire Democratic caucus. "The damages caused by your company are far reaching," the lawmakers wrote to BP's Tony Hayward.
Obama is scheduled to address the nation Tuesday evening in regards to ongoing oil leak.
Though the current situation in the Gulf of Mexico may seem like the worst oil spill in history, it has, so far, been a far cry from the Ixtoc oil spill. The Ixtoc 1, like the Deepwater Horizon, was an exploratory rig that suffered a blowout in the Bay of Campeche (Gulf of Mexico) in 1979. Fast Company created an interesting infographic that compares the world's worst oil spills. Here is a section from the rather large graphic:
When you look at the Deepwater Horizon oil spill this way, it doesn't look as bad as you thought, right? Well take a look at the environmental impact of this current spill, compared to the impact of previous, and some larger, spills: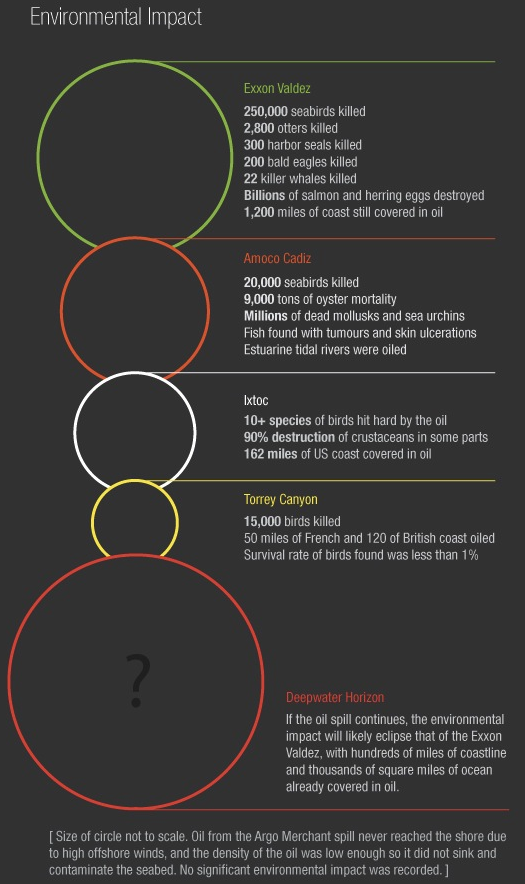 Experts say that this event could become the largest oil spill in the world in terms of amount of oil leaked, money required for cleanup and claims and damage to the environment. If BP doesn't find a solution soon, there is little doubt the Deepwater Horizon oil spill might make the number one spot — an unfortunate accolade.
The above article is reprinted from the Risk Management Monitor - the official blog of Risk Management magazine.
Reprinted with permission from the Risk Management Monitor. Copyright 2010 Risk and Insurance Management Society, Inc. All rights reserved.