California CPAs Report Few Restatements But Many Are Not Reportable
California's Accountancy Act requires licensees to report to the California Board of Accountancy, among other things, "Any restatement of a financial statement and related disclosures by a client audited by the licensee".  Cal. Bus. & Prof. Code § 5063(b)(1).  This report must be made within 30 days of the date on which the licensee "has knowledge" of the event. 
When originally enacted in 2002, the statute required that all restatements be reported to the CBA.  2002 Cal. Stat. c. 231 (AB 270 (Correa)).   In the ensuing nine years, the CBA received more than 2,300 reports of restatements.  Approximately 56% of that total were also reported to the Securities and Exchange Commission.  During that same period, the CBA did not take even one enforcement action based on a reported restatement.  In 2011, the legislature exempted from the reporting requirement restatements included in reports filed with the Securities and Exchange Commission.  Cal. Bus. & Prof. Code § 5063.10 added by 2011 Cal. Stat. c. 448 (SB 543 (Steinberg)) effective January 1, 2012.
Recently, I checked with the CBA regarding the number of restatements noticed in the last five years pursuant to Section 5063(b)(1).  The following chart summarizes the data provided by the CBA: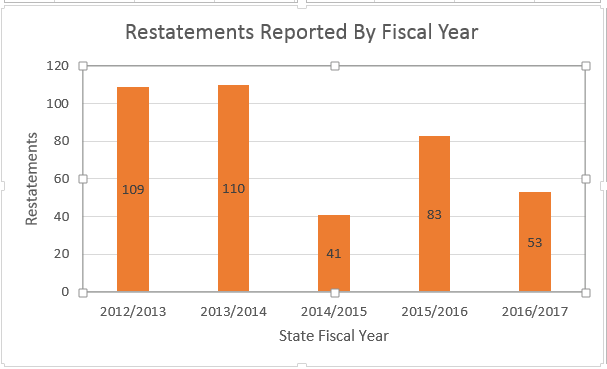 © 2010-2019 Allen Matkins Leck Gamble Mallory & Natsis LLP