Enterprise Risk Management (ERM) at S. Claus, Inc.
During the summer months, the inside of the North Pole's post office (Zip Code 00000) is usually a placid place. Outside, it is equally quiet and tranquil. Mostly, it is just a small herd of reindeer grazing and romping about during the sunny, warm days. There is a natural rhythm to the place. However, when the calendar on the wall in the post office turns to October 1, the pace of activity quickens and culminates in fever pitch by December 24 of each year. The letters from boys and girls post-marked from around the world arriving at the North Pole Post Office in October are a reminder of the anticipation and pent-up excitement of their primary younger customer base. The letters are carefully sorted and meticulously organized. Hundreds of letters a day arrive in October, thousands in November and millions during the second and third weeks in December. The last minute rush does create a problem for the HR department because every letter must be checked twice as part of an automatic appeal process. The audit and compliance group is keeping tabs on everything.
Each letter expresses holiday wishes and all contain lists chock full of special requests for the person who made the North Pole so famous: a certain Mr. Santa Claus. Everyone working at S. Claus, Inc., the largest employer in a company town, is focused on the mission critical fourth quarter deadline. There can be no identification and delivery mistakes. Achieving a goal of 100% perfection required that S. Claus, Inc. adopt and implement the enterprise risk management (ERM) process. An ERM charter was drafted that set the tone at the top: there is no tolerance for risk. The S. Claus board-level risk committee, executive risk committee and internal audit group worked together. S. Claus assumed duties of "CRO" as he is ultimately accountable for everything. It is part of the culture at S. Claus, Inc. and the genial workforce, many of whom have been there forever, know that they have to bet the farm for a flawless operation on December 25.
Success results from embedding the ERM process into a carefully crafted strategic plan. Both the unacceptable downside of failure and the upside gain resulting from efforts to increase their customer base have been analyzed and incorporated into actionable items.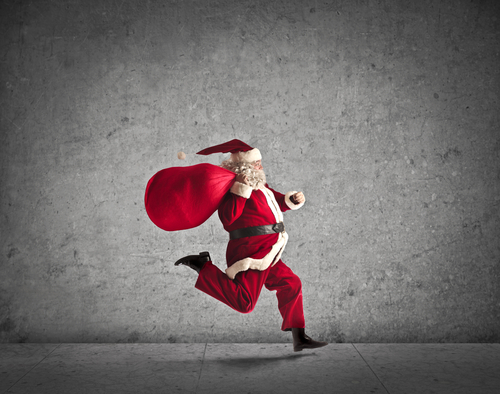 The fourth quarter of each year is when analysts from the financial press and other stakeholders arrive for their annual visits. When you're leading a business that is literally too big to fail, everyone wants to sit down with the CEO and perhaps gain some insights from an icon. The ERM process paid off when an enterprise-wide risk identification and assessment noted that there could be some kinks in the supply chain. S. Claus had a private meeting with the U.S. Post Master General to discuss a possible shut down of hundreds of local post offices around the country. Supply chain risks are considered mission critical by CEO Claus and always appear in the upper right red quadrant of a specially designed risk heat map. After his meeting with the Post Master General, CEO Claus determined that the issue was moving toward resolution and this particular supply chain risk could be re-plotted in the yellow segment of the heat map labeled "proceed, but with vigilance."
One item on the risk map is of deepening concern because it has been migrating from green to yellow to red far more frequently than ever before. It is a unique supply chain risk – smart phones. The concern is that smart phones are one of the few items that are outsourced. Every time a new model is announced, usually in the third quarter, holiday demand escalates rapidly. Outsourcing is required because the workforce of elves is busy making more traditional items (hula hoops are still big in some corners of the world). Quality must be maintained. The S. Claus brand name is considered priceless and cannot be put in jeopardy.
Another important risk management issue is the curious relationship between S. Claus, Inc. and the temporary "helpers" located around the world. The foreign exchange exposures are enormous. There has been a great deal of volatility during this year, especially in Europe. CEO Claus has been vexed about the hedging strategy to be employed. The various central bankers that serve as his usual strategic financial advisors in such matters appear to be stuck in a muddle or on a cliff of indecision. This year, because of the enormous uncertainty and volatility, S. Claus Inc. will purchase an option to take advantage of any up-side gain while also protecting the downside risk.
Happy ERM holidays.
Risk Management Magazine and Risk Management Monitor. Copyright 2018 Risk and Insurance Management Society, Inc. All rights reserved.