Hurricane Matthew Could Impact Renewals, Reinsurers
Downgraded to a post-tropical cyclone on Sunday, Hurricane Matthew proceeded to work its way north, pummeling coastal regions of Georgia, South Carolina and North Carolina, where rivers are overflowing and flooding continues. So far, Matthew has killed nearly 900 people in Haiti and 17 in the United States. More than 2 million U.S. homes and businesses lost power over the weekend, according to Reuters.
CoreLogic said today that it anticipates hurricane-related insured property losses for both residential and commercial properties to be between $4 billion and $6 billion from wind and storm surge damage. The amount does not include insured losses related to additional flooding, business interruption or contents.
CoreLogic: Hurricane Matthew Loss Contribution by County in Florida, Georgia and South Carolina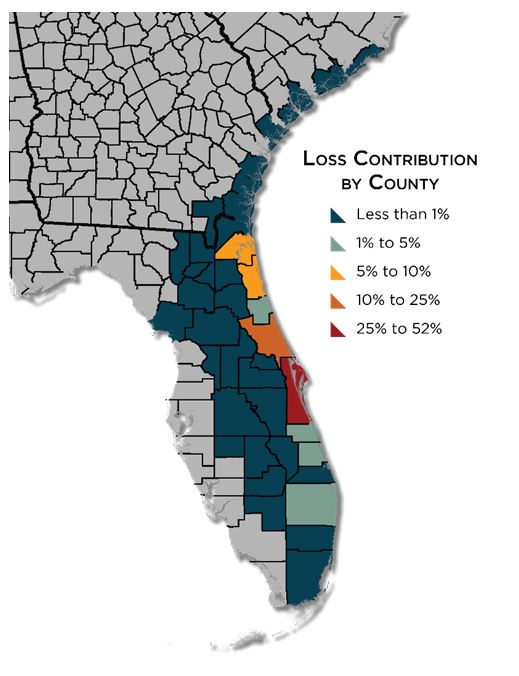 Willis Towers Watson said on Friday that the storm's losses are not expected to adversely affect the insurance industry, due to abundant capacity. Organizations with upcoming renewals, however, may be impacted, the company warned.
"There will still be upset for the next couple of weeks, and underwriters will be skittish about renewing business until they calculate their losses," Gary Marchitello, head of property broking at Willis Towers Watson, said in a statement. "Anyone with the misfortune of renewing programs with East or Gulf coast exposures over the next 4 to 6 weeks will be challenged to secure property coverage at favorable terms."
Despite the excess capacity, the market is "ripe for an opportunity to turn," and an event or aggregated events "will drive pricing adjustments," he said.
Fitch Ratings said Hurricane Matthew will put pressure on earnings of some insurance underwriters in Florida and other southeast states but is "not expected to present a major capital challenge." If storm insured losses exceed $10 billion, Fitch said a greater proportion of the losses will be borne by reinsurers as opposed to primary companies.
According to Fitch, the homeowner's market share has shifted away from large national writers and the state-sponsored Citizens Property Insurance Corp. to a number of smaller Florida homeowners specialists. "A lack of storm activity over the last decade has substantially increased the claims paying resources to meet catastrophe losses, such as those arising from Matthew, of both Citizens and state-sponsored reinsurer, the Florida Hurricane Catastrophe Fund (FHCF)," Fitch said.
Primary insurers with the largest exposure in Florida are: Universal Insurance Holding Group, Tower Hill Group, State Farm Mutual Group, Citizens Property Insurance Corporation and Federated National Insurance Company.
Property insurers writing business in Florida rely heavily on reinsurance protection and other methods to mitigate their risk of extreme loss. "As a result, the FHCF, the traditional and collateralized reinsurance markets and the catastrophe bond market could have meaningful exposure to losses from Matthew," Fitch said. Fitch estimates that FHCF has assumed the largest level of premiums by a wide margin. Among private entities, Lloyd's of London appears to be the next largest reinsurer followed by Allianz SE; Tokio Marine Holdings, Inc.; Everest Re Group, Ltd.; and XL Group Plc., Fitch said.
Risk Management Magazine and Risk Management Monitor. Copyright 2021 Risk and Insurance Management Society, Inc. All rights reserved.
National Law Review, Volume VI, Number 284