Insurance Agency Karen Clark & Co Estimates $7B Insured Damages from Hurricane Matthew
Based on high-resolution storm surge, inland flooding and wind models, Karen Clark & Co. said today that it estimates insurers will pay $7 billion for damages in the United States resulting from Hurricane Matthew.
The storm weakened and stayed further off the Florida coast than was initially projected by the National Hurricane Center (NHC). While it stayed offshore, other than a brief landfall in South Carolina, Hurricane Matthew caused extensive wind, storm surge, and inland flooding damage.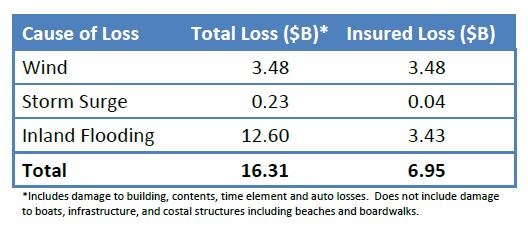 KCC said in a flash bulletin that it tracked the event using forecast data from the NHC and RiskInsight's advanced module, WindfieldBuilder, which automatically creates a high-resolution wind footprint for each storm advisory so that losses and numbers of claims can be estimated for specific portfolios along with the likely locations of claims.
Hurricane-force winds of more than 74 mph were experienced along limited sections of Florida's coastline, most notably areas between Cape Canaveral and St. Augustine, damaging residential and commercial structures including roofs, windows, awnings, and signage.
As the track of the storm veered closer to the coastline near Savannah, hurricane-force winds again impacted properties along the coast, KCC said. The most impacted coastal areas include:
Daytona Beach, Florida

Tybee Island, Georgia

Hilton Head Island, South Carolina
Along the coast there were isolated pockets of significant storm surge and resulting property losses. As Matthew tracked parallel to the coastline for a distance, many other areas experienced minor storm surge damage.
The table below shows the measured precipitation for a few cities in North Carolina, where water levels are expected to exceed the 500-year flood levels for the second time in 20 years:

Risk Management Magazine and Risk Management Monitor. Copyright 2022 Risk and Insurance Management Society, Inc. All rights reserved.
National Law Review, Volume VI, Number 291