Mexico's COVID-19 Traffic Light Monitoring System: News for March 1–14, 2021
The COVID-19 pandemic in Mexico appears to be abating after spiking in January and February 2021. The notable improvement in epidemiological conditions has prompted the federal government and local governments to gradually ease restrictive orders in accordance with the four-tiered traffic light monitoring system, which is updated every other week.
In the March 1–14, 2021, monitoring report, none of the states are in red traffic light status—the strictest status—for the first time since the September 27–October 11, 2020, report. Ten states are now in orange status, the second-most restrictive tier; 20 states are in yellow status; and 2 states are in green status, the point at which activities are allowed without restriction.
Notwithstanding the above, the federal Ministry of Health has reiterated that the population should comply with health sanitary measures to prevent the spread of COVID-19, such as by wearing face coverings, washing hands, and social distancing.
This chart presents the traffic light status of each state, and, as applicable, variations between federal and local traffic light statuses based on publications of the Ministry of Health and status reports provided by each state.
Below is a map for the period of March 1–14, 2021, indicating the COVID-19 risk level in each of the states.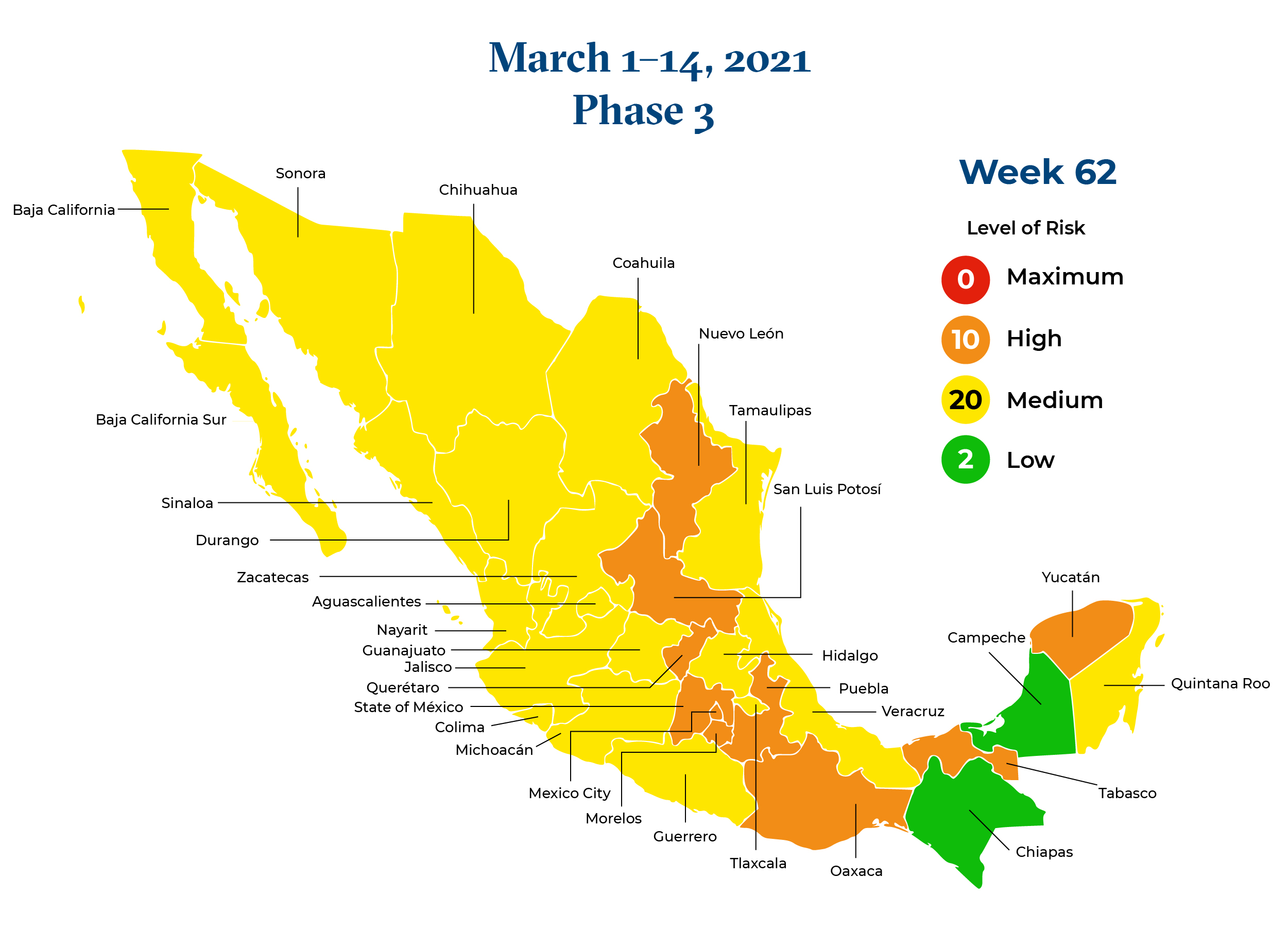 As of February 28, 2021, there had been 2,281,355 estimated cases and 185,715 deaths due to COVID-19 in Mexico since the pandemic began. On the other hand, 1,633,900 people had recovered from COVID-19, and 1.94 percent of the population had been vaccinated (with 2,455,095 vaccine doses administered). Almost all of the nation's states currently have hospital occupancy rates below 50 percent, with the exception of Mexico City. Mexico City's hospital occupancy rate declined from 75 percent on February 8, 2021, to 50 percent as of March 1, 2021.
Finally, it is important to point out that despite Mexico City's orange traffic light status, the return to on-site activities for corporate offices and private-sector offices will not take place until the Mexico City Monitoring Committee determines that the capital has reached green traffic light status. Companies considered to be "essential" according to the list of essential activities provided by the government of Mexico City are excepted from this policy.
© 2021, Ogletree, Deakins, Nash, Smoak & Stewart, P.C., All Rights Reserved.
National Law Review, Volume XI, Number 68