Mudslide Was Forewarned, Experts Assert
Even as rescue teams search for more bodies in the aftermath of the March 22 mud slide in Washington, records show that while the area is prone to these disasters, homes were allowed to be built there anyway.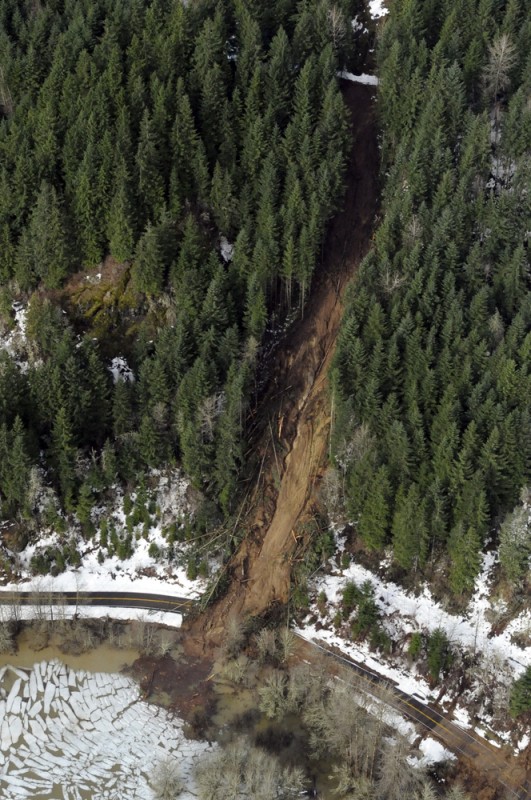 The slide, triggered by excessive rain, has claimed 24 lives so far and 176 are still unaccounted for, the Associated Press reports.
Snohomish County Emergency Management Director John Pennington said during a news conference on March 24 that the slide was "completely unforeseen" and that it "came out of nowhere."
In a 1999 report filed with the U.S. Army Corps of Engineers, however, geomorph­ologist Daniel J. Miller and his wife, Lynne Rodgers Miller, warned of "the potential for a large catastrophic failure" in the area, according to the Seattle Times.
"We've known it would happen at some point," Daniel Miller said. "We just didn't know when." He added that after a mudslide in 2006, he was surprised to find that more building was allowed in the area just weeks later. "Frankly, I was shocked that the county permitted any building across from the river," he told the Seattle Times. "We've known that it's been failing," he said of the hill. "It's not unknown that this hazard exists."
The area has a history of mudslides. After two earlier slides on the hill in 1949 and 1951, recommendations were made to permanently divert the Stillaguamish River or build berms to reinforce the slide area. Howard Coombs of the University of Washington, however, concluded that any fix was likely to be temporary.
A thousand-foot berm was built in the fall of 1960, but it was mostly destroyed by high water in the Stillaguamish the following year, according to state records. Other barriers that were built were also destroyed by mud, the report said.
Tracy Drury, an environmental engineer and applied geomorphologist said there have been discussions over the years about whether to buy out property owners in the area, but that the talks never became serious proposals, The Seattle Times reported.
Risk Management Magazine and Risk Management Monitor. Copyright 2022 Risk and Insurance Management Society, Inc. All rights reserved.
National Law Review, Volume IV, Number 85