The Risks of Oil-Producing Countries
Understanding the unique risks of oil-producing countries is not easy. From political to economic to security risks, there are many and they are far-reaching.
I was lucky enough to participate in a webinar yesterday on this very topic. Leading the presentation was Fareed Mohamedi, partner and head of markets and country strategies for PFC Energy and Raad Alkadiri, partner and head of PFC Energy.
The webinar was thought-provoking and insightful, offering a glimpse into the oil production of such countries as Iraq, Iran, Russia and Brazil.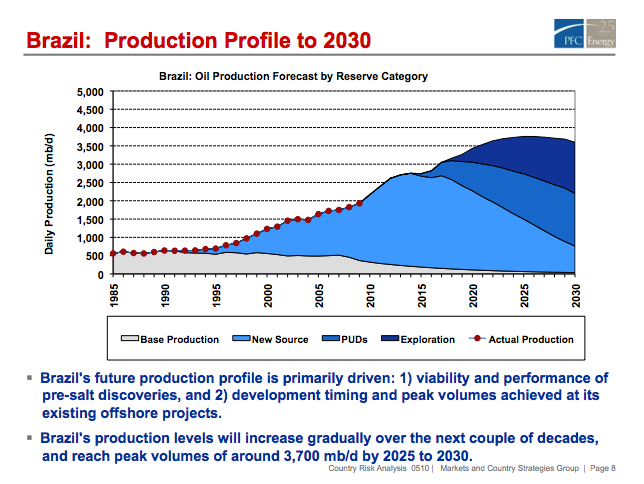 Iraq, according to the U.S. Energy Information Administration, holds more than 112 billion barrels of oil — the world's second largest proven reserve — and also contains 110 trillion cubic feet of natural gas, and is a focal point for regional and international security issues. Mohamedi and Alkidiri see this oil-rich country as a ongoing risk.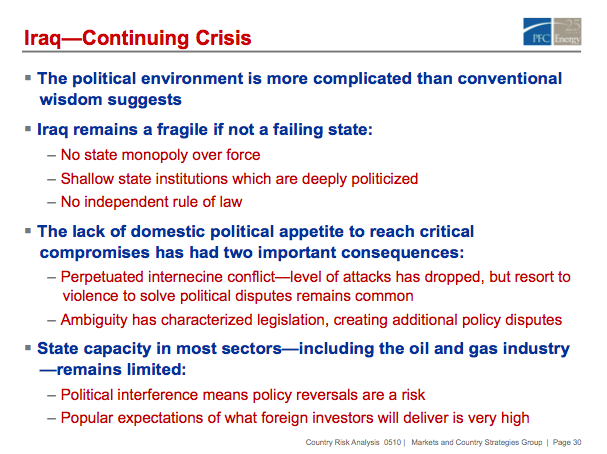 The presenters also focused on OPEC constraints on oil production and the eventual quota applied to Iraq, stating that "OPEC may be able to live with maximum Iraqi production of 6 mmb/d by 2017 assuming relatively benign supply/demand fundamentals, but the risks are all on the downside."
But let's not leave out Iraq's neighbor and fellow oil-rich country, Iran. According to PFC Energy, the country's oil production forecast looks something like this: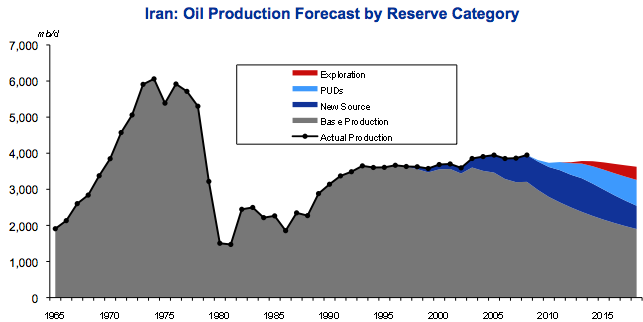 But this excessive production doesn't come without some consequences. Iran faces severe natural decline rates from its reservoirs, forcing Iran to rely heavily on proven undeveloped reserves (PUDs). However, the country's unstable investment climate is a downside risk for PUD development. And as the webinar stated, "Iran's production struggles will continue, or even worsen in the future due to geological constraints, lack of domestic technical capacity and the impact of sanctions on investment."
U.S. dependency on foreign oil may decrease as the Obama administration opens up even more water for exploratory drilling. But, as we have seen recently with the Deepwater Horizon, that too comes with extreme risks.
The above article is reprinted from the Risk Management Monitor - the official blog of Risk Management magazine.
Reprinted with permission from the Risk Management Monitor. Copyright 2010 Risk and Insurance Management Society, Inc. All rights reserved.
National Law Review, Volume , Number 158