Terrorism Incidents Down, Disruption Up in 2015 [INFOGRAPHIC]
A number of high-profile terrorism attacks worldwide have raised people's fears this year, but the reality is that the number of attacks and deaths from such attacks actually decreased in 2015, according to Marsh's 2016 Terrorism Risk Insurance Report.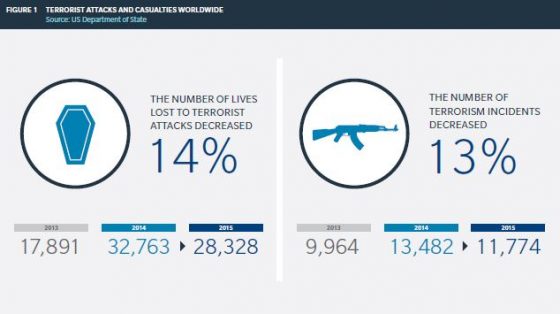 The report summarizes terrorism risk insurance trends, benchmarks terrorism insurance take-up rates and pricing, and offers risk management solutions for terrorism exposures.
The more current attacks, often perpetrated by a single individual or small group, are different from those carried out in the 1990s and 2000s when high profile locations were targeted. Individuals carrying out the more recent attacks may have no direct contact with a known terrorist organization, but could be drawn to them through writings and video, particularly on the internet, Marsh said.
These events can be very disruptive to operations in some companies. In the travel industry, for example:
About 10% of American travelers canceled booked trips due to the recent attacks in Egypt, France, Lebanon and Mali, which impacted $8.2 billion in travel spending, according to a survey by YouGov.

Booking losses for Air France were estimated to be €50 million ($56 million), the company said in a statement.

Airlines, hotel chains and travel websites experienced drops in their stock prices after this year's airport bombing in Brussels.
In the United States, the Terrorism Risk Insurance Program Reauthorization Act of 2015 (TRIPRA) offers businesses a federal backstop against terrorism-related losses. While the overall take-up rate for TRIPRA coverage in the U.S. increased slightly in 2015, it has remained in the 60% range since 2009, Marsh said.
Managing terrorism risk requires a combination of strategies that protect people, property and finances. On the financial side, the choice is whether to retain or transfer the risk with insurance. But the changing pattern of terrorism risk has some companies asking if they are adequately insured for business interruption and related losses. They also wonder how to prepare for potential losses from cyber terrorism and other events.
Other key takeaways from the report include:
As small group and "lone wolf" terrorist attacks appear to be the changing face of terrorism, many organizations are assessing their coverage for indirect losses stemming from business interruption risks.

Following the 2015 passage of the Terrorism Risk Insurance Program Reauthorization Act (TRIPRA), take-up rates in the US edged up for TRIPRA terrorism coverage embedded in property programs.

Among industry sectors, media organizations had the highest take-up rate for terrorism insurance in 2015.

Workers' compensation markets for terrorism risks generally stabilized.

The number of Marsh-managed captives accessing TRIPRA increased by 17% from 2014 to 2015, but many captives that could offer a terrorism program do not.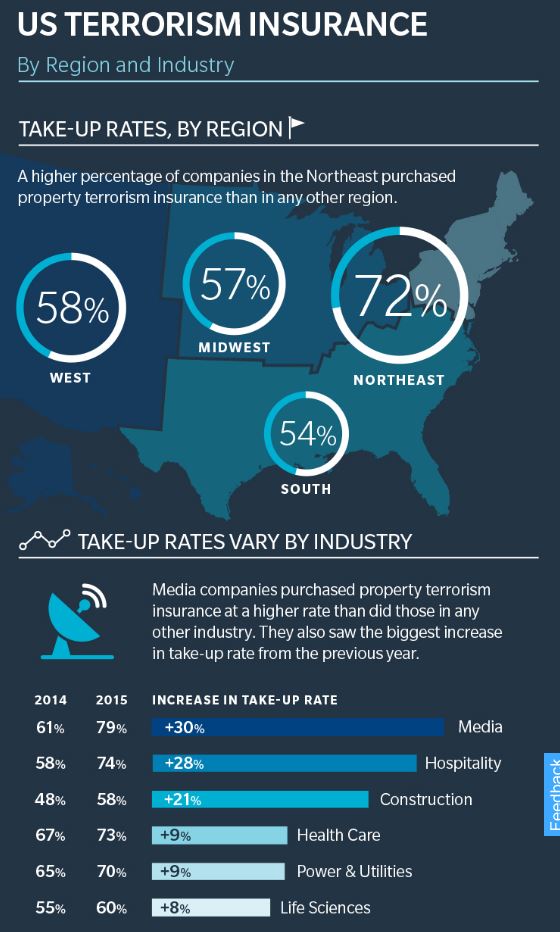 Risk Management Magazine and Risk Management Monitor. Copyright 2021 Risk and Insurance Management Society, Inc. All rights reserved.
National Law Review, Volume VI, Number 229