Walmart Sees the Light for Parking Lots
I don't think about parking lots often. Hot in the summer and jammed with frantic shoppers during holidays, I try to spend as little time in them as possible. But because my passion is energy efficiency, I have recently thought a lot about how much it costs to illuminate these spaces and how much energy could be saved with updated lighting systems.
Business owners have long recognized the potential of light-emitting diode (LED) technology to save energy, reduce maintenance costs and improve environmental sustainability. We wanted to take LEDs to the next level by validating the energy and cost-savings potential for LED lighting in retail parking lots and for wide-scale adoption.
The experts in my Energy Department program, Building Technologies, collaborated with members of the Retailer Energy Alliance (REA) to take on this challenge. The LED Site Lighting Specification, a set of criteria retailers can follow to select energy saving and reliable LED parking lot lighting, came from that partnership.
The specification provides information about luminaires (or light fixtures), their performance, and how a site should be lighted to optimize performance. The specification addresses business aspects such as aesthetics, branding and customer safety. It also recognizes the potential risks businesses face in adopting new technologies by requiring a five-year minimum warranty for LED luminaires.
We were faced with a question: Was the market ready to adopt LEDs on a large scale? One of our commercial partners, Walmart, responded with a resounding "yes."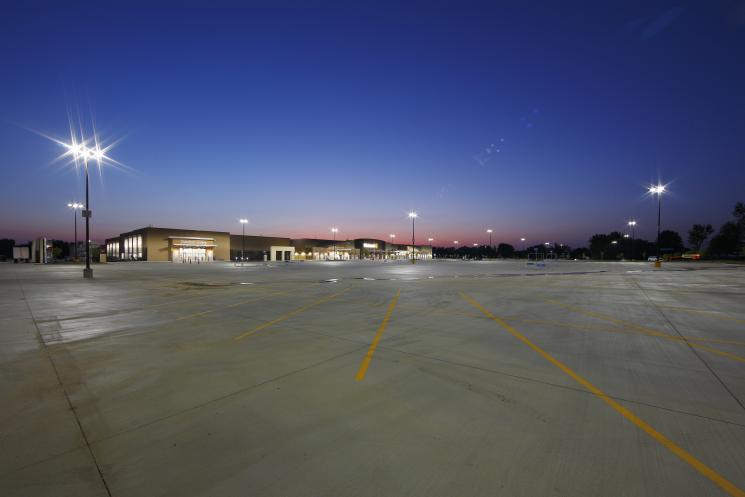 This Walmart in Leavenworth, Kansas, was the first to include LED parking lot lighting based on a specification developed through the Energy Department's Building Technologies Program, the Retail Energy Alliance and the retailer. Since January, Walmart has planned to install similar lighting system at more than 225 new sites. | Photo courtesy of Walmart.
In 2009, Walmart opened its supercenter in Leavenworth, Kansas, the first site to implement the Energy Department specification. The Energy Department Solid-State Lighting Technology Demonstration GATEWAY Program helped Walmart compare the cost of a conventional high intensity discharge (HID) system to a new LED system.
The result: Walmart expects LEDs to reduce energy needs in its parking lots by more than 50 percent, delivering average energy savings of over 125,000 kWh a year per site -- enough to power 11 American households. The retailer also anticipates cutting maintenance costs by more than 30 percent annually.  
While the initial cost of the LED system was higher, the energy and maintenance costs over the expected 10-year lifecycle is much lower, making the LED system more cost effective over time.
Walmart and our team members agree that the Leavenworth demonstration project proved the LED specification works in the real world. Since January 2011, Walmart has planned for over 225 new sites that will include LED parking lot lighting.
It's great to think we'll soon see LEDs in parking lots across the country. This is good news because some LEDs can render colors closer to their actual hue - which will help when you're searching for your car at night (once you've remembered where you parked). It's also good news for businesses looking to lower costs and promote sustainability. 
Department of Energy - © Copyright 2020