2013 Hurricane Season: Active Storms Ahead
Saturday, June 1, marks the beginning of the 2013 Atlantic hurricane season. Forecasters from Colorado State University predict 18 named storms for the 2013 season, with nine of those forecasted to become hurricanes and four expected to be major hurricanes. The National Oceanic and Atmospheric Administration's Climate Prediction Center warns there could be even more storms to hit the Sunshine State — up to 20, in fact, compared to the average of 12. If these and other predictions are right, Florida will see its share of storms this season.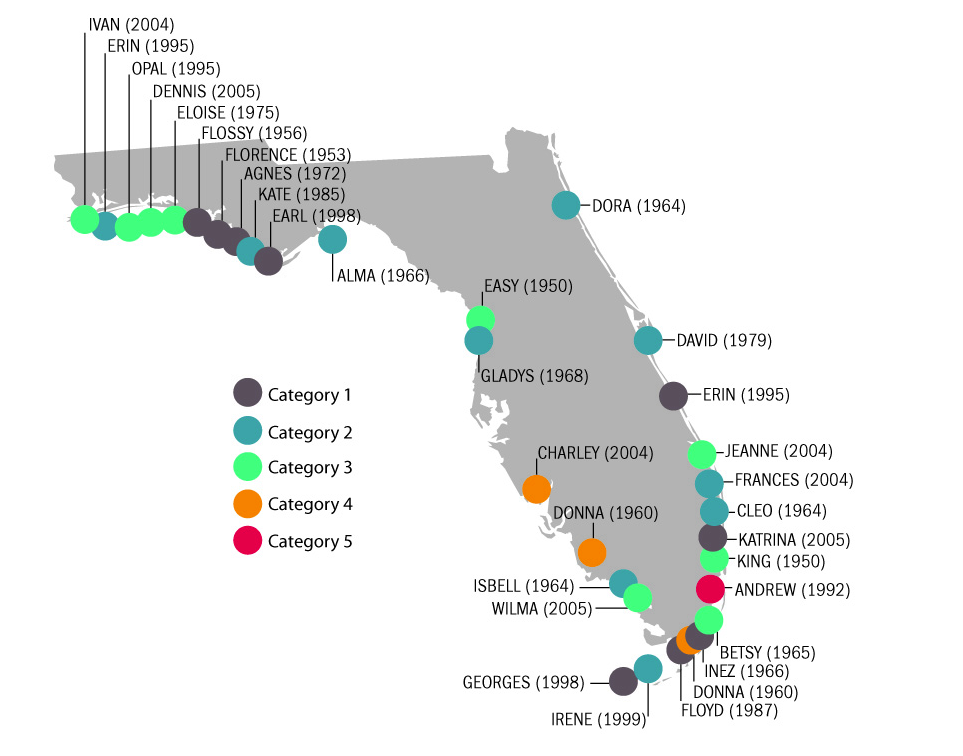 But Floridians are not oblivious to these stats. As the the June issue of Risk Management states:
Regardless of the predictions, many Floridians were already expecting to be hit. The state that is geographically most vulnerable to Atlantic storms and has the longest coastline among the lower 48 (1,350 miles) has been spared each of the past seven years. Hurricane Wilma, one of seven major hurricanes that made landfall in the United States during the historic 2005 season (the year of Katrina), was the last storm to punish Florida.
With 2013′s predictions being far worse than those of 2012, businesses should begin preparing now. According to the Insurance Information Institute, 15 to 40% of businesses fail following a natural disaster. Of those businesses that recover, on average, it takes about 11.5 days for them to become fully operational. This is a recipe for serious revenue and customer loss.
Bob Boyd, president and CEO of Agility Recovery, a provider of business continuity and disaster recovery solutions, provides the following advice for businesses in the path of hurricanes (or any natural disaster, for that matter).
Before the Storm
Ensure you have tested and activated your crisis communications plan prior to the storm's approach. Even if the storm isn't on a direct path to your location, activating this part of your plan will ensure reliable communications with your stakeholders.

Backup all data on servers and personal computers, and ensure you are able to remotely access and restore the data to an alternate site without delay.

Move vital records, equipment, supplies and inventory to a safe or fortified location. Postpone any future deliveries or shipments until the storm passes and transportation routes are passable.

Fill fuel tanks of generators and all company‐owned vehicles, and ensure employees are familiar with your emergency transportation plan for critical staff. Plan ahead for interruptions including curfews, law enforcement roadblocks, mass transit shut-downs, and impassable roads and bridges.

Enable remote access to your company's website and social media channels to ensure constant communication with stakeholders. Contact the media ahead of time to make sure they know how to reach your leadership and spokespersons.
During the Storm
Ensure employees are away from wind and flood hazards and know the company policy regarding inclement weather. Take into account the fact that coastal flooding and storm surge are the most destructive and deadly forces during a hurricane.

Establish teams working on a 24-hour schedule to monitor any equipment that must consistently remain on line.

Preemptively shut off any unnecessary electrical switches to prevent surges or electrical shorts and accidents before the necessary checks are completed post-landfall.
After the Storm
Watch and listen to local news and online media channels for damage reports, transportation outages, lingering flooded areas and other potential dangers prior to assessing your facilities.

Establish and follow company policies for limiting access to your facilities until the area has been declared officially safe by local law enforcement, inspectors or company officials.

Begin contacting employees, suppliers, critical partners and other stakeholders to ensure their safety and ability to return to work.

Begin salvage as soon as possible to prevent further damage to facilities, inventory and assets. Begin work to restore any critical business functions that have been interrupted by the storm.
As we saw with the last two major hurricanes (Katrina and Sandy), preparation is paramount. In the New York area, Governor Cuomo marked this past week as Hurricane Preparedness Week — asking the state's residents to review their preparations for the upcoming season. With 2013 predictions well above the seasonal average, this is advice every Atlantic coastal state should take seriously.
Risk Management Magazine and Risk Management Monitor. Copyright 2022 Risk and Insurance Management Society, Inc. All rights reserved.
National Law Review, Volume III, Number 153