Bank Strategy Briefing: Moving Away From Common Bank Names
It is difficult to overstate the importance of a bank's name. After all, it's the centerpiece of a bank's long-term branding strategy. Before reaching the teller line or setting up a meeting with a banker, seeing a bank's name on a branch sign, billboard or website is likely the first interaction a customer has with the institution.  With many Midwest institutions approaching or surpassing 100-year anniversaries, a bank's name may reflect generations of service to a community or the ownership family's legacy. 
Many banks share common names
A surprisingly large number of banks in the U.S. share common naming elements, as detailed below: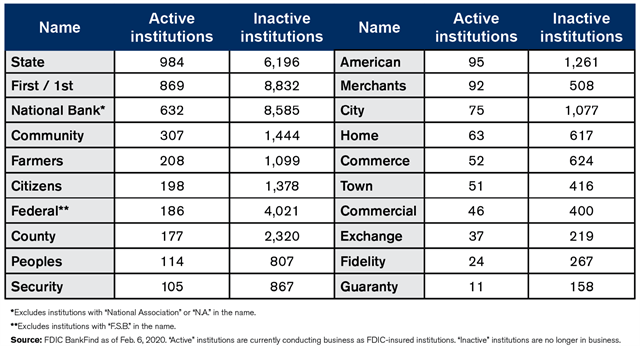 While many reasons for this degree of commonality exist, community pride and company history among them, similar names can result in market confusion, or worse, trademark disputes.
To differentiate themselves, a number of banks have begun changing names. In some instances, it's a legal name change as specified in the institution's articles, while in others it's adopting a trade name.
How to change a bank's legal name
The process for changing a legal name is relatively simple. First, a thorough search must be conducted to ensure the new name is available. This search would identify existing bank trademarks for the name as well as other potential uses that could cause marketplace confusion. Then comes amending the bank's articles of incorporation. This requires board and shareholder approval. Once the amendment is effective, customer-facing marketing materials and legal documentation will need to reflect the new legal name.
How to adopt a trade name
Trade names are more nuanced and compliance-sensitive. In addition to validating that a name is available for use, various banking agencies require disclosures about the trade name to appear in signage, advertising and account-opening documentation. This helps customers understand that accounts under each name will be aggregated when calculating FDIC insurance coverage. For example, the Wisconsin Department of Financial Institution's (WDFI's) guidance requires disclosure that trade names be identified as a "branch" of the bank. WDFI does not permit other descriptors like "division" or "unit."
Name changes create new marketing opportunities
Beyond the legal and logistical aspects of a name change, it's important to develop a robust marketing plan to maximize the opportunity a name change creates. Consider ways to reintroduce the bank to the marketplace and retell its story to the community.
Copyright © 2022 Godfrey & Kahn S.C.
National Law Review, Volume X, Number 63