The Biggest Risks and Opportunities Ahead
For the remainder of 2013 we are likely to see pricing pressure and cost cutting, along with innovation in products, services, operations and rapid-growth market demand. These are the top risks and opportunities, respectively, as presented by Ernst & Young's lastest study, Business Pulse: Exploring the Dual Perspectives of the Top 10 Risks and Opportunities in 2013 and Beyond.
The top three risks for the remainder of 2013 and projected for 2015:
Pricing pressure — Ernst & Young reports that the strength of low-cost competition and online shopping has intensified the battle for market share and that "brand-driven price premiums have become difficult and expensive to maintain." Other factors include regulatory actions and its effects on profitability; worsening terms of trade for goods; and high wages and benefits in mature economies.
Cost cutting and profit pressure — Companies have cut just about all they can since the 2008 global economic crisis. This puts firms under extreme pressure to continue cutting without damaging company performance. "These pressures have intesified in recent years, reflecting the narrower margin that firms can absorb and still remain operations," the report states.
Market risks — Commodity price volatility, interest and exchange rates, and equity risk are all market risks influencing cost cutting and profit pressures.
The Top 10 Risks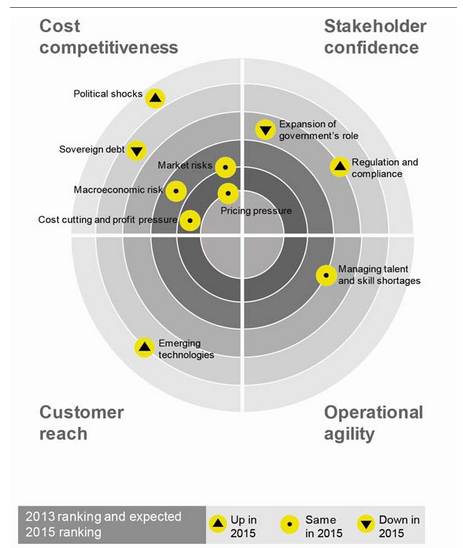 The top three opportunities for 2013 and beyond:
Innovation in products, services and operations
Emerging market demand growth
Investing in process, tools and training to achieve greater productivity
Top 10 Opportunities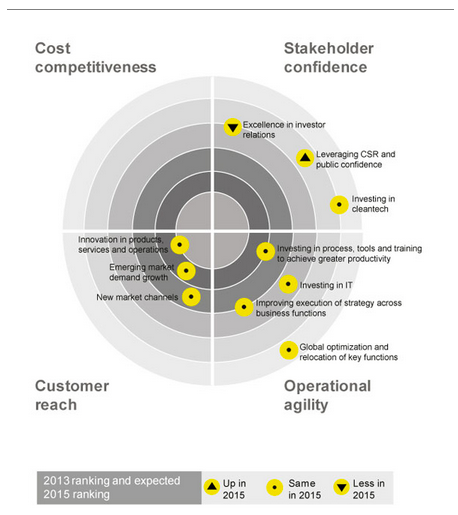 What are some emerging challenges that firms may face in the future? Ernst & Young points to the following specific and possible events:
The U.S. enters a deflationary trap
Deep recession in the Eurozone
The end of rapid growth in the BRICS
A full-scale interstate war in the Middle East
Cyber conflict that disrupts infrastructure and business operations
Risk Management Magazine and Risk Management Monitor. Copyright 2022 Risk and Insurance Management Society, Inc. All rights reserved.
National Law Review, Volume III, Number 63