Deer Collision Costs on the Rise
Drivers beware: Whether operating a company or personal vehicle, it's that time of the year again—mating season for deer, causing them to be more active and more than doubling the likelihood of a collision through December. What's more, State Farm reports that the national per claim average—from July 1, 2016 through June 30, 2017—rose to $4,179 from $3,995 during 2015-16.
State Farm warns that, "Whether you hit a large animal, or it jumps into the side of your vehicle, such collisions can cause significant injuries and property damage." Although more prevalent in some states than others, drivers everywhere need to be alert and focused on the road.
In its 15th annual deer claim study, State Farm ranks states by a driver's likelihood to hit a large animal such as deer, elk, moose or caribou. According to the study, while West Virginia continues to lead the nation, the state saw a 4.7% decrease from 2016,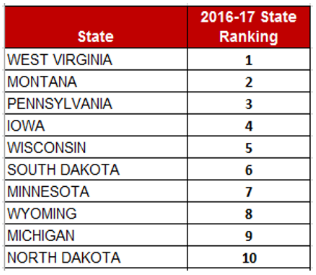 with one out of every 43 drivers likely to hit a deer or other large animal.
There were also some increases among the top 10 states over last year's study. Montana drivers have a one in 57 chance of a collision—a 1.8% increase; and Pennsylvania drivers have a one in 63 chance of a crash, a 6.3% increase.
The top 10 states where a driver was most likely to have a large animal insurance claim remain fairly consistent, State Farm said. Wisconsin moved into the top five, swapping positions with South Dakota. Wyoming moved into the top 10 at number eight. North Dakota moved up to number 10 and South Carolina is no longer in the top 10. Thirteen states had no change in ranking.
The Property Casualty Insurers Association of America (PCI) offers these tips for drivers:
• Buckle up. Seat belts save lives and help prevent injuries.
• Time of day is critical. Deer are generally more active during dawn and dusk hours, so pay attention to your surroundings and stay alert.
• Avoid distracted driving. Put the phone down, and never text while driving.
• Have a plan for roadside assistance. If an accident occurs, have the phone number for your insurer or roadside assistance ready. Some towing companies take advantage of drivers after an accident and you could find yourself facing excessive fees or complications recovering your car from the tow yard.
• Update your proof of insurance. Replace any expired insurance identification cards in the event you need to prove you have insurance after an accident. Although having a hard copy is best, don't panic if you have misplaced yours—37 states have enacted laws that allow you to show proof of coverage on your smartphone. Find out if your insurer offers this feature.
• Watch for road signs that alert you to areas that are populated with more deer.
• Stay in your lane. If you see a deer, brake firmly but do not cross the center lane into potentially on-coming traffic.
If you do have a collision, State Farm recommends that you:
• Move your vehicle to the side of the road, if possible, and turn on your hazard lights. If you must leave your vehicle, stay off the road and out of the way of oncoming traffic. Deer are most active at dusk and dawn—times when you or your vehicle may be less visible to other motorists.
• Call the police. Alert authorities if the deer is blocking traffic and creating a threat for other drivers. If the collision results in injury or property damage, you may need to fill out an official report—this report also can prove useful when filing your insurance claim.
• Document the incident. If it's safe to do so, photograph the roadway, your surroundings, damage to your vehicle, and any injuries you or your passengers sustained. If witnesses stop, take down their account of what occurred, and ask for their contact information.
• Stay away from the animal. A frightened, wounded deer could cause harm with its powerful legs and sharp hooves.
Risk Management Magazine and Risk Management Monitor. Copyright 2018 Risk and Insurance Management Society, Inc. All rights reserved.