Despite High-Profile Collapses, More Than 10% of the Nation's Bridges Remain Structurally Deficient
Last week, an oversized truck traveling on a bridge over the Skagit River north of Seattle in Washington state reportedly hit an overhead girder, causing the bridge to collapse into the rushing waters below. Fortunately, neither the truck driver nor anyone else died in the accident.
But now the locals need to come up with a solution, both temporary and long term, to fix the throughway so that the area can resume commerce and travel as normal. They have a plan for short-term fix, according to Washington Governor  Jay Inslee in a press conference. "We're going to get this project done as fast as humanly possible," said Inslee. "There's no more important issue right now, to the economy, to the state of Washington frankly, than getting this bridge up and running."
This may not have just been some freak accident, however.
As Pew Stateline points out, the bridge was rates as "functionally obsolete." And WNYC has repoted that "NTSB Chairman Debbie Hersman said the bridge had a history of being hit by oversized loads. Before last week's collision, the most recent incident happened last October."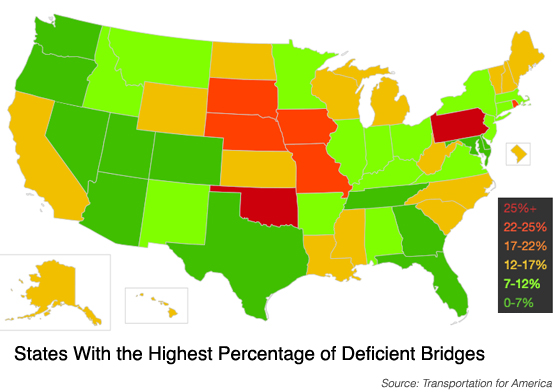 Investigations will continue and Washington will certainly devise a lasting solution to crossing the river.
The bigger issue here is that this is far from the only "obsolete" or "deficient" bridge that commuters and truckers are using every day in the United States. In fact, the number of subpar bridges is staggering, according to a Transportation for America report.
Transportation for America explains its view of the problem.
Despite billions of dollars in federal, state and local funds directed toward the maintenance of existing bridges, 68,842 bridges — 11.5 percent of total highway bridges in the U.S. — are classified as "structurally deficient," requiring significant maintenance, rehabilitation or replacement.

Two key problems persist: while Congress has repeatedly declared bridge safety a national priority, existing federal programs don't ensure that aging bridges actually get fixed; and the current level of investment is nowhere near what is needed to keep up with our rapidly growing backlog of aging bridges.
Of course, it's not like bridges are collapse across America everyday.
But the recent five-year anniversary of the last deadly, high-profile, catastrophic servers as a reminder of just how disastrous it can become when deficient bridges remain in use. Thirteen were killed and nearly 150 were injured when the I-35W bridge over the Mississippi River in Minneapolis collapse in 2008.
It seems like it's only a matter of time until something similar happens again.
How do you manage that risk?
If you're the governments across the United States, apparently the main method is crossing fingers.

Risk Management Magazine and Risk Management Monitor. Copyright 2023 Risk and Insurance Management Society, Inc. All rights reserved.
National Law Review, Volume III, Number 154