DOD Counterfeit Parts Reporting and Oversight Needs Improvement, Says GAO
The Government Accountability Office (GAO) recently published a report regarding efforts by the Department of Defense (DOD) to address vulnerabilities to counterfeit parts in its global supply chain in response to questions from Congress.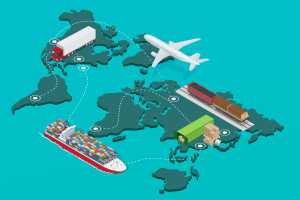 GAO noted that DOD "draws from a large network of global suppliers and, in fiscal year 2014, managed over 4.7 million parts" that are used in communications and weapons systems that cost more than $96 billion. GAO captured the significance of this issue in its letter to Congress stating: "The existence of counterfeit parts in the DOD supply chain can, for example, delay missions, affect the integrity of systems, and ultimately endanger the lives of service members."
GAO's report, Counterfeit Parts: DOD Needs to Improve Reporting and Oversight to Reduce Supply Chain Risk, GAO-16-236, February 2016 shows that the number of suspect counterfeit reports in the Government-Industry Data Exchange Program (GIDEP) has declined precipitously from 2011 to 2015, even in the face of contractor reporting requirements that went into effect in 2014. Here's what GAO's investigation showed: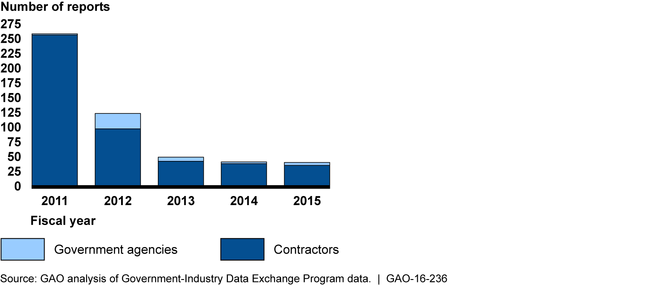 Although GAO did not reach any final determinations about why there have been fewer reports in recent years, GAO did conclude that "it is likely that defense agencies—particularly DLA—are not reporting all of the suspect counterfeit parts they detect."
GAO made other notable findings and recommendations. First, DOD is not performing necessary oversight to ensure agencies are reporting as required. In fact, DOD had no insight into the Defense Logistics Agency's reporting practices, a significant problem especially in light of the role DLA plays in sustainment of systems–DLA provides logistical support for over 2,400 weapon systems across all military branches and supplies approximately 90% of the military's repair parts. DOD concurred with that finding and indicated that a new DOD Instruction would be issued by the end of the second quarter, fiscal year 2017. DOD stated that instruction would cover the "use of GIDEP, to include identification of roles and responsibilities for submission of reports and oversight of such submission."
GAO also found that there currently is no standardized process for what triggers a report by a Defense agency. For example, DLA has a more stringent process than the Navy. GAO found that that may mean reports are not being submitted in a timely manner. Again, DOD concurred with GAO's finding and pointed to the forthcoming instruction which it said will address "the level of evidence needed to report a part as suspect counterfeit in GIDEP." That guidance will be useful to contractors as well.
GAO determined that DOD should provide guidance for DOD components and contractors for when access to reports should be restricted to government only. DOD again pointed to its new instruction and concurred with GAO's finding.
Finally, GAO recommended that DOD clarify for industry the criteria under which contractor systems for counterfeit detection and avoidance will be assessed by DOD. DOD agreed and pointed to its July 6, 2015 DCMA INST-1205 Instruction on Counterfeit Mitigation but disagreed with the recommendation to provide contractors with specific implementation details, instead preferring to allow contractors flexibility in order to leverage "the evolving nature of industry standards and best practices."
So, defense contractors and their subcontractors can expect to see new guidance and important changes to counterfeit parts reporting requirements from DOD before March 30, 2017. The extent of those changes remains to be seen, but DOD's attention should be focused on the shortcomings in the existing system identified in GAO's report. We applaud DOD's preference for contractor flexibility and hope that concept will not be lost when the rubber hits the road.
Copyright Holland & Hart LLP 1995-2020.
National Law Review, Volume VI, Number 57