Facebook's Initial Public Offering "IPO": The Good, the Bad and the Ugly
By this time, you're probably aware of the debacle over Facebook's initial public offering on the NASDAQ exchange last week. Let's break it down.
The Good
There isn't much that falls under this category, execpt for the fact that the NYSE is enjoying the controversy – it's attempting to lure Facebook to the exchange.
The Bad
It was announced Tuesday that two U.S. financial regulators suggested reviews be launched into the social media site's IPO, citing concerns over disclosure relating to underwriter Morgan Stanley. It was reported that Morgan Stanley analysts received information that caused them to cut revenue forecasts for Facebook. This information, however, was only shared with analysts from the 33 underwriting banks and was never made public. Simply put, "the disclosure of lower forecasts to certain big institutional investors left both Facebook and Morgan Stanley open to accusations of selective disclosure. Many smaller investors who bought Facebook shares in the IPO were left in the dark."
This morning it was announced that Morgan Stanley and other underwriters associated with the IPO have profitted close to $100 million from stabilizing the share price, along with millions in profit more in IPO fees. Before the public offering, Morgan Stanley was given the opportunity to purchase a large chunk of shares at a discount in order to keep the share price stable through buying and selling once the shares were offered to the public. The bank not only sold every last one of the 421,233,615 shares it bought at discount, but it also shorted an additional 484,418,657, which only signals one thing — Morgan Stanley knew the share price would drop and it, in turn, would buy back the shorted shares at a profit.
The Ugly
Thus begins the wave of lawsuits. Tuesday, a Los Angeles-based law firm, Glancy Binkow & Goldberg LLP, filed a class action lawsuit on behalf of investors who suffered losses from Facebook's IPO. And it was announced today that the law firm of Girard Gibbs LLP has filed a similar class action suit, stating that "the company, its officers and directors, and underwriters with violations of federal securities laws for false and misleading statements made in the Registration Statement and Prospectus issued in connection with the IPO." In addition to these, several lawsuits have been brought against Mark Zuckerberg, Morgan Stanley and even Nasdaq.
In the end, the fact is that not all Facebook IPO investors received the same data. To most (i.e., small, individual investors), that's unfair. But to many (institutional investors and underwriters), that's just the name of the game. What's your take?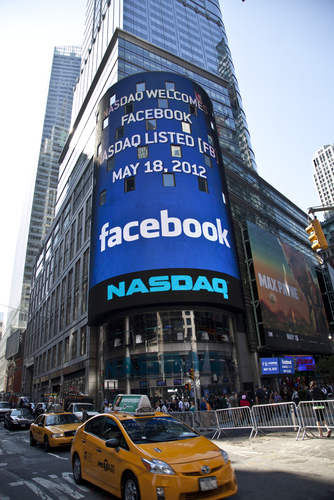 Risk Management Magazine and Risk Management Monitor. Copyright 2023 Risk and Insurance Management Society, Inc. All rights reserved.
National Law Review, Volume II, Number 149