Home Depot Confirms Massive Data Breach
On Monday, Home Depot confirmed that a breach of its payment data systems may have exposed customer card data across the United States and Canada. The breach appears to have begun in April, allowing hackers to steal an untold amount of shopper information including credit card numbers.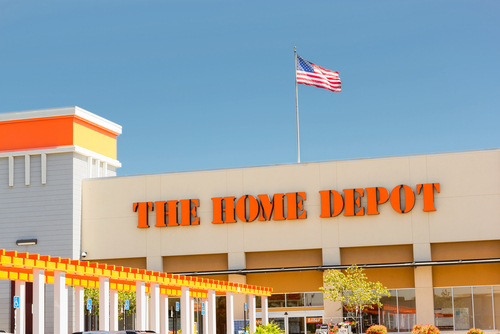 The home improvement giant disclosed on Sept. 2 that it was investigating reports of "unusual activity" and, a week later, determined that any customers who used a card in the U.S. or Canada is at risk, though the breach does not appear to impact shoppers online or at retail stores in Mexico. In an official statement, the company assured that no one would be held responsible for fraudulent charges and offered free identity protection services, including credit monitoring, to anyone who has shopped at one of its locations since April.
As with the massive Target data breach, the Home Depot news was first broken by cybersecurity journalist Brian Krebs. The data went up for sale on rescator. So, the same underground store that sold credit card information from the Target and P.F. Chang's breaches, and may have been stolen by the same group of hackers. Krebs reported, "In what can only be interpreted as intended retribution for U.S. and European sanctions against Russia for its aggressive actions in Ukraine, this crime shop has named its newest batch of cards 'American Sanctions.' Stolen cards issued by European banks that were used in compromised U.S. store locations are being sold under a new batch of cards labeled 'European Sanctions.'"
Given the five-month duration, this breach may be many times larger than the Target attack, which exposed 40 million credit and debit cards and the personal data of 70 million customers in three weeks. The Target breach led to the resignation of its CEO and cost the company almost $150 million in the second quarter alone, according to the New York Times. In fact, the toll may reach ever higher. "I don't see how they're getting out of this for under a billion, over time," John Kindervag, the vice president and principal analyst with Forrester Research, told the Times, adding, "$150 million in a quarter seems almost like a bargain." Beyond the company itself, Javelin Strategy and Research reported at the time that total damage to banks and retailers could surpass $18 billion, and consumers could be liable for more than $4 billion in uncovered losses and other costs.
One of the most promising ways to increase point-of-sale security is through the adaptation of EMV chip technology, as discussed in the March issue of Risk Management. In Europe, 81% of cards have EMV chips, and countries that have adopted the technology saw sharp declines in credit card fraud. In England, for example, the amount of fraud per transaction has dropped 57% since 2002, while it has risen almost 70% in the United States over the same period, according to consulting firm Celent. As part of its breach response, Home Depot announced plans to escalate adoption of EMV, installing "chip and PIN" checkout terminals throughout its U.S. stores by the end of the year. Target made a similar move in April, saying that it will issue its branded REDcard credit, debit and co-branded credit cards with MasterCard chip technology beginning next year.
Risk Management Magazine and Risk Management Monitor. Copyright 2020 Risk and Insurance Management Society, Inc. All rights reserved.
National Law Review, Volume IV, Number 252