It's Time For Foreign Corporations To Publish Or Perish In Nevada
In a recent post about Ruel Gridley's famous 50 lb. sack of flour, I mentioned The Reese River Reveille.  The Reveille began publishing in Austin, Nevada in 1863 and was published continuously for 130 years.  Nevada  seems to like newspapers because for more than a century it has imposed a publication requirement on foreign corporations doing business in the state.  NRS 80.190.  The required contents of the annual statement are fairly minimal:
The name of the corporation.
The name and title of the corporate officer submitting the statement.
The mailing or street address of the corporation's principal office.
 The mailing or street address of the corporation's office in this State, if one exists.
The annual statement must be published in two numbers or issues of a paper having a total weekly circulation of at least 1,000.   If that circulation number seems low, remember that outside of Reno and Las Vegas, the state is sparsely populated.  Austin, the erstwhile home of the Reveille, has a population of less than 200 souls.  
The statement must be published no later than March of each year.   If, however, the corporation's fiscal year is not a calendar year, the statement must be published no later than the end of the third month after the end of the fiscal year.  
The monetary penalty is modest - $100 for each month that the statement is unpublished.  There may be other, perhaps more serious, consequences as well.  In this opinion, the Nevada Attorney General concluded that a foreign corporation does not remain in good standing if it fails to publish.  Opinion No. 1959-16 (March 4, 1959).
The publication requirement does not apply to limited liability companies or partnerships.  The Nevada Secretary of State, however, takes the position that foreign nonprofit corporations are subject to the requirement.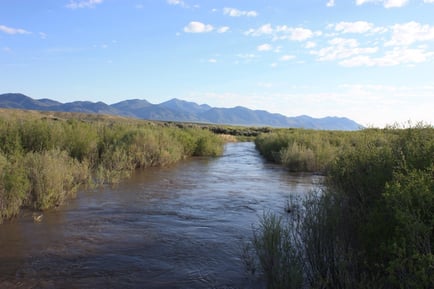 The Mighty Reese River, Yomba Reservation, Nevada
© 2010-2023 Allen Matkins Leck Gamble Mallory & Natsis LLP
National Law Review, Volume XI, Number 13