Like Marley, Court Forges Chain Of Liability Link By Link To Hold Nevada Director Liable For California Corporation's Debt
The Nevada legislature has gone a long way to insulate directors of Nevada corporations from liability.  Directors, however, are not entirely immune as was recently illustrated in Judge Barry Ted Moskowitz' recent ruling in Odyssey Reinsurance Co. v. Nagby, 2019 U.S. Dist. LEXIS 111794.  
The case involved an involved the following series of transfers allegedly to avoid payment of return commissions originally owed by Cal-Regent, a California corporation, to the plaintiff: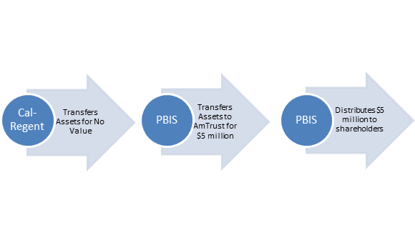 Judge Moskowitz found that the plaintiff was a creditor of PBIS, a Nevada corporation, both under California's Uniform Fraudulent Transfer Act (now known as the Uniform Voidable Transactions Act) and California's successor liability rule at the time PBIS distributed the proceeds of its sale of assets to Amtrust.  Judge Moskowitz then ruled that the distribution was unlawful under NRS § 78.288(2)(a) because it left PBIS unable "to pay its debts as they became due in the usual course of business," and under NRS § 78.288(2)(b) because it left PBIS with assets "less than the sum of its total liabilities."  Accordingly, PBIS' director was liable pursuant to NRS § 78.300.  
© 2010-2022 Allen Matkins Leck Gamble Mallory & Natsis LLP
National Law Review, Volume IX, Number 196