Soaring Temps Bring More Risks for Workers
As the heat wave made its way from the southern U.S. to the northeast earlier this week, residents throughout that broad area struggled to find cool comfort. It's easy to sit inside an air conidtioned office and watch the temperature rise on outdoor thermometers, but what about those that make their living working outside, often as hostages of heat? Many times, they'll succumb to heat exhaustion at some point in their career, or worse, heat stroke.
According to the Occupational Safety and Health Administration (OSHA), thousands of outdoor workers experience some form of heat-related illness each year. Just this week, a 42-year-old Alabama man died of heat stroke two days after working outdoors and showing signs of heat exhaustion. And, according to the Alabama Department of Public Health, he was the third victim this year in the state. Triple-digit temperatures also recently claimed two lives in Texas and two in Oklahoma.
From Little Rock, Ark., to New York City, officials blamed more than three dozen deaths on sweltering temperatures. Heat advisories were in effect Wednesday in 11 states, including Georgia, with temperatures in Texas, Oklahoma and Kansas stuck well above the 100-degree mark.
So what can workers do (and employers encourage) to avoid succumbing to the effects of high temperatures? The American Society of Safety Engineers suggests the following:
Use cooling pads that can be inserted into hardhats or around the neck to keep the head and neck cool. Vented hardhats or neckbands soaked in cold water can also be used to minimize prolonged heat exposure and prevent the body from overheating.
Wear protective eyewear that features sufficient ventilation or anti-fog lens coating to reduce lens fogging from the heat. Sweatbands can also be used to prevent perspiration from dripping into the eyes.
Use gloves with leather palms and cotton or denim backs, which allow for an increased airglow and still protect hands. Also, choose gloves with a liner to absorb sweat preventing perspiration buildup. Some gloves also feature strips of nylon mesh or are perforated at the back of the hand for more airflow.
Wear light-colored, loose-fitting, breathable clothing such as cotton, recommends OSHA.
Take breaks in cooler, shaded areas.
For workers exposed to extreme heat, proper hand protection from burns depends on the temperature and type of work to which workers are exposed.
To prevent dehydration, another hazard associated with exposure to heat, NIOSH recommends that workers drink five to seven ounces of fluids every 15 to 20 minutes. Drink cool water and avoid diuretics such as coffee, tea, alcohol or soda that actually deplete body fluid. Sports drinks are also good for replacing fluid in the body but use should be monitored due to the high sodium content.
Following these, and other tips, is just good risk management and illness prevention. For further information about protecting workers from the effects of heat, visit OSHA's fact sheet on the topic.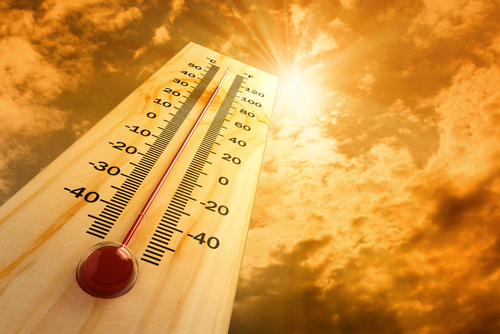 Risk Management Magazine and Risk Management Monitor. Copyright 2022 Risk and Insurance Management Society, Inc. All rights reserved.
National Law Review, Volume I, Number 198