Taking Steps to Douse Factory Fire Risks
The National Fire Protection Association (NFPA) reports that property losses at U.S. factories total nearly $1 billion annually. Between 2006-2010, about 42,800 industrial or manufacturing property fires in the utility, defense, agriculture, and mining industries were reported to U.S. fire departments each year, as well as 22 deaths and 300 injuries each year, according to the NFPA.
"Fire is the No. 1 preventable disaster at manufacturing facilities," Cindy Slubowski, vice president and head of manufacturing at Zurich, said in a statement. "Most fires are preventable, and the risks can be reduced dramatically."
In recognition of National Fire Prevention Week (Oct. 5-11), Zurich recommends that factory owners implement a pre-fire plan, starting with these steps: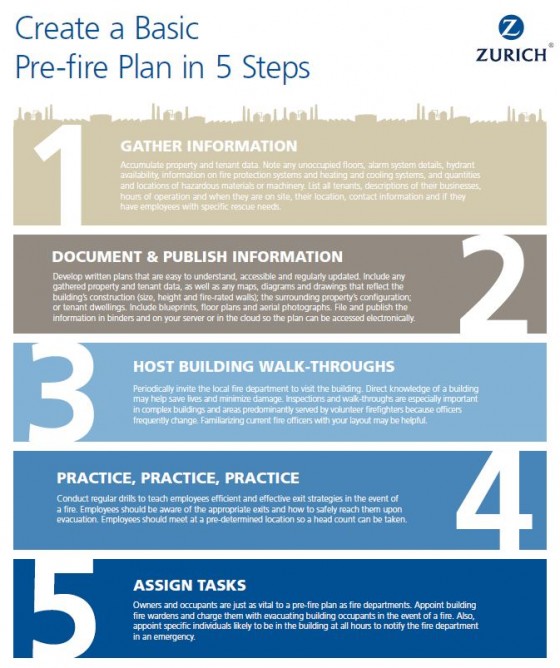 When initial fire prevention efforts fail, automatic sprinklers are an effective secondary line of defense. They not only can protect property from fire damage, but they also play a major role in helping reduce injuries and fatalities. According to the NFPA, sprinklers have a 97% success rate in controlling fires when sprinklers operate during the blaze.
"Sprinklers are a proven method of keeping fires from raging out of control, which gives building occupants a greater chance to evacuate without injury," Slubowski said. "On top of that, firefighters face fewer risks while working inside the building to completely extinguish the fire." She added that insurers can help building owners develop a pre-fire plan that fits their particular manufacturing facility.
In its white paper, "Loss Prevention," Zurich recommends weekly checks for factories including:
Visually checking fire protection control valves that are fitted with breakable seals to verify that they are open. Include valves inside ceilings, in pits, and at fire pumps.

Starting and running electric fire pumps via pressure drop for at least 10 minutes and diesel fire pumps for at least 30 minutes, exercising both sets of batteries. Verify that the diesel fire pump's fuel tank is at least two-thirds full.

For dry pipe, preaction, and deluge sprinkler systems, check gauges for proper air pressure to verify that the systems have not tripped. Also check their enclosures for adequate heat to prevent freezing.
Common causes and prevention measures: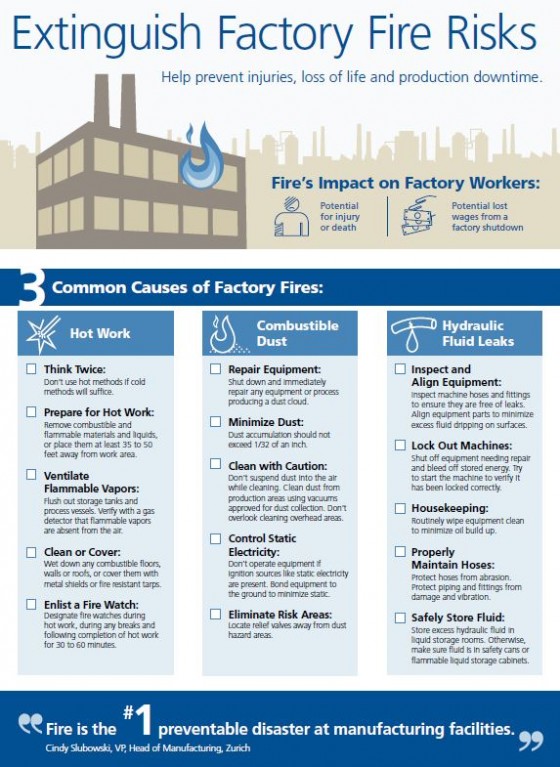 Risk Management Magazine and Risk Management Monitor. Copyright 2020 Risk and Insurance Management Society, Inc. All rights reserved.