The Top 50 Global Risks
As it does twice per year, Aon released its Global Risk Management Survey, which, among other things, pinpoints a significant decline in risk readiness among many of the more than 1,400 survey respondents. In fact, risk readiness for the top 10 risks dropped 7% from the 2011 survey.
"One possible explanation of the decline in risk readiness could be that the prolonged economic recovery has strained organizations' resources, thus hampering the abilities to mitigate many of these risks," said Stephen Cross, chairman of Aon Global Risk Consulting. "Our survey revealed that, despite diverse geographies, companies across the globe shared surprisingly similar views on the risks we are facing today – whether or not they feel prepared."
The following are the top rated risks for the remainder of 2013 and, as we see, well into the future. As illustrated, the economy, regulatory changes and competition remain the top risks companies are concerned about now and in 2016.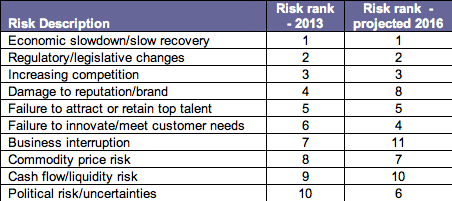 As the report states:
Political risk/uncertainties broke into the top 10 risks for the first time in 2013. Due to the increasing civil wars and social and political conflicts around the world, this risk is projected to move up to number six in the 2016 survey. Weather/natural disasters, while not far off the radar at a current ranking of number 16, is also projected to jump into the top 10 list at number nine, given the unusual climate patterns worldwide and an unprecedented increase in natural disasters and weather events. Failure to innovate/meet customer needs is an increasing priority, projected to jump from number six to number four in the next three years. Business interruption is expected to drop out of the top 10 risks due to companies' efforts to improve business recovery.
 The survey also uncovered several, as Aon sees it, underrated risks. They are:

These are potential threats that companies should keep an eye on. Though it's surprising to see computer crimes listed so low, considering the daily viruses and hacking events we are becoming aware of. The same can be said for the ranking of social media.
For the complete list of the top 50 risks, click here.
Risk Management Magazine and Risk Management Monitor. Copyright 2022 Risk and Insurance Management Society, Inc. All rights reserved.
National Law Review, Volume III, Number 126