DBO Reports Record Number Of CFL Licensees
California prohibits any person (unless exempt) from engaging in the business of a finance lender or broker without obtaining a license from the Commissioner of Business Oversight.  Cal. Fin. Code § 22100(a).  This applies to persons engaged in the business of making commercial as well as consumer loans, whether secured or unsecured.  Licensees are required to file an annual report with the Commissioner by March 15 of each year.  Cal. Fin. Code § 22159(a).  The Commissioner is required to make a "composite" of these reports available as a public record.  Cal. Fin. Code §  22160.  The Commissioner recently fulfilled this obligation by posting this report for the 2018 calendar year.  The report contains a large amount of data about licensed lender activity.
According to the Commissioner, the last year marked a 10 year high in the number of licensees and licensed locations.  However, the number of applications for licenses was slightly below the 10 year high.  Below is a graph prepared from the data in the Commissioner's report.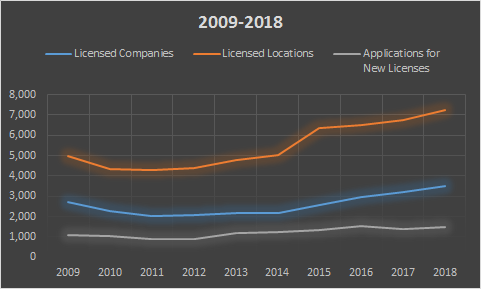 It appears that the increase in licensees has not kept pace with the number of applications.  For example, 1,398 applications for new licenses were received in 2017, but the number of licensees at the end of 2018 had increased by only 293 (the report does not disclose the number of licenses that were surrendered).
© 2010-2020 Allen Matkins Leck Gamble Mallory & Natsis LLP
National Law Review, Volume IX, Number 228