Looking Back at the Big Flood: Time to Examine Your 'Human Supply Chain'
The devastation left behind after Hurricane Harvey is a reminder that people are a critical link in the effort to build community storm resilience. We often remind our customers that to prepare for a disaster, they need to consider their supply chain risk—will they be able to access goods and services in the aftermath of a storm.
One area that is often overlooked is what is often called the human supply chain, which consists of your employees, customers and others members of your community.
Beyond ensuring that your employees are safe, business owners may need to consider other concerns: Do you have a plan that will allow your employees to continue working during the recovery? Can they work remotely? Are your employees trained in disaster preparedness? If your business relies on local customers, are they able to access your goods and services? What about rescue personnel and other business owners that provide goods and services to support the community?
Think of the human supply chain as a network of individuals who help your business to survive and continue to thrive after a disaster, like Hurricane Harvey, which dumped trillions of gallons of water on Texas a year ago.
Ensuring that this living, breathing supply chain remains connected is one of the recommendations culled from 13 in-depth studies that Zurich has produced on the impacts of natural disasters around the world. The latest report, "Houston and Hurricane Harvey: a call to action," was released at the start of the 2018 hurricane season.
Zurich has developed a methodology called the Post-Event Review Capacity (PERC), which is an approach to understanding why a hazard becomes a disaster, and then from that, identifying entry points for building resilience.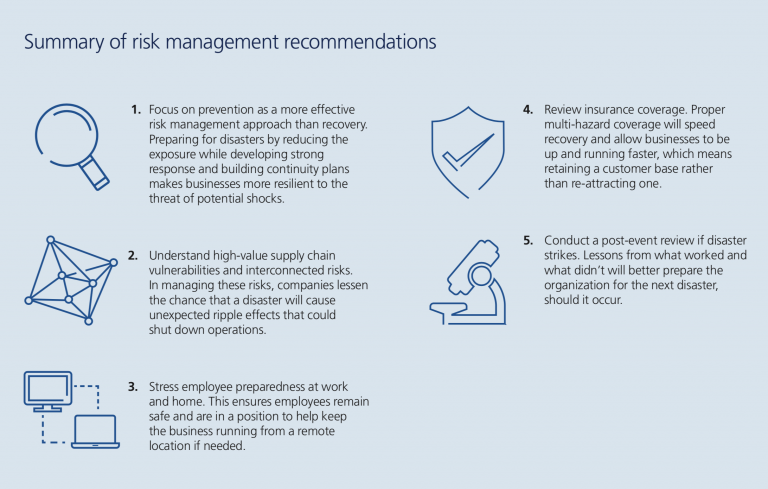 A report released earlier this month highlights some of the lessons learned from these PERC studies and encourages businesses and communities to focus on resilience to prepare for future storms.
The report identifies some common truths about major storms:
Every dollar spent on disaster preparedness saves four dollars in future losses;
Early warnings paired with contingency and emergency planning can save lives and protect businesses; and
Risk managers and communities must "build back better" to strengthen resilience after a disaster strikes.
The report also emphasizes the human element in storm preparation and recovery. For example, one of the central lessons that emerged from the PERC studies is that successful response operations are mostly reliant on institutions. Providing equipment, access to food and showers, assisting with cleanup and offering paid time off for employees can go a long way towards supporting a community and creating a culture of assistance.
Business leaders should provide employee readiness training, the report concludes. Some companies already do this, making preparedness a part of business as usual. One such company regularly schedules "disaster recovery days." The company will randomly announce, "It's flooding today, work from home," to practice employee readiness for the real thing.
This recognition that humans play a critical role in the recovery process is partly why Zurich continues to support SBP, an organization that seeks to shorten the time between disaster and recovery.
Zurich has worked with SBP since 2009, helping the nonprofit bring hundreds of families back home after Hurricane Katrina. SBP has remained in Southeast Texas since Harvey to help aid in the recovery efforts there.
Recognizing the need for home and business owners to identify and mitigate their risks prior to disasters, Zurich in 2014 committed a $3 million grant to SBP through its Z-Zurich Foundation. The grant helped fund SBP's Disaster Resilience & Recovery Lab, an initiative through which SBP trains home and business owners in 30 communities at risk for disasters across the United States over the course of three years.
In the future, hurricanes will continue to wreak havoc, destroying homes and lives, damaging critical infrastructure and shuttering businesses, but it's important to remember that humans are they key to resilience. Keeping people safe, engaged and part of the recovery process can help ensure that communities remain resilient in the face of major storms.
Risk Management Magazine and Risk Management Monitor. Copyright 2022 Risk and Insurance Management Society, Inc. All rights reserved.
National Law Review, Volume VIII, Number 254