More Chemicals Banned from Cosmetics
With the passage of Washington's Toxic-Free Cosmetics Act of 2023, several states are gearing up to pass similar laws. The new Washington law bans the manufacture, sale, and distribution of cosmetic products that contain any of nine intentionally added chemicals or chemical classes. This law supplements the limited regulation by the federal government. In advance of this law, and several other similar laws, going into effect, it is useful to understand the regulatory landscape that currently applies to chemical bans in cosmetics. This review will only cover bans on chemicals in cosmetics; therefore, it will not cover disclosure requirements, bans that only apply to cosmetics used by juveniles, and bans on chemicals in personal care products as a whole.
Federal Regulation
The federal government has largely left the regulation of cosmetics to the states. The Federal Food, Drug, and Cosmetic Act (FFDCA) is the main statute dealing with cosmetics at the national level. For cosmetics, the FFDCA primarily deals with ensuring that cosmetics are not misbranded or adulterated. It does not ban any chemicals in cosmetics, but the Food and Drug Administration (FDA) has long banned certain chemicals in cosmetics. With the recent enactment of the Modernization of Cosmetics Regulation Act of 2022 (MoCRA), the FFDCA does proscribe other safety measures. For more details about MoCRA, see our alert.
At the federal level, FDA prohibits a mere ten chemicals or chemicals classes in cosmetic products. The most recent class of ingredients that were banned in 2016. Under 21 C.F.R. Part 700, Subpart B, a cosmetic product is considered to be adulterated if it includes any of the following:
Bithional

Chloroflourocarbon propellants

Chloroform

Halogenated salicylanilides (di-, tri-, metabromsalan and tetrachlorosalicylanilide)

Hexachlorophene

Mercury compounds

Methylene chloride

Prohibited cattle materials (for more information on what constitutes a prohibited cattle material see 21 C.F.R. § 700.27)

Vinyl chloride

Zirconium-containing complexes
State Regulation
Due to the lack of intervention at the federal level, a number of states have passed, or are in the process of passing, their own laws banning certain chemicals and chemical classes for cosmetic use. These state laws fall into two main categories- state laws aimed at banning certain chemicals from cosmetics specifically and laws aimed at banning perfluoroalkyl and polyfluoroalkyl substances (PFAS) specifically and apply to the cosmetics industry.
Bans on Chemicals in Cosmetics
So far, four states have passed laws banning certain chemicals from cosmetics: California, Maryland, New York, and Washington. Washington is the most recent to have passed such a law, having done so on April 14, 2023. The California, Maryland, and Washington laws ban a number of the same chemicals and are all set to begin on January 1, 2025. Georgia, Illinois, Vermont, and Oregon have proposed similar laws that would also address those chemicals, with all but Oregon planning to go into effect January 1, 2025, as well. These laws most commonly plan to ban: ortho-phthalates, formaldehyde, methylene glycol, mercury, m-phenylenediamine and its salts, o-phenylenediamine and its salts, and certain PFAS. Many of these substances have already been banned for use in cosmetics in the EU (for example, phthalates, formaldehyde, methylene glycol, and mercury).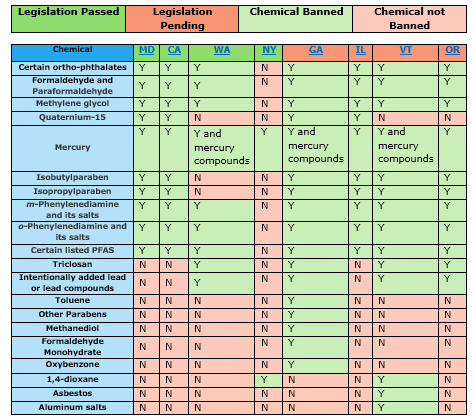 Click here for an identical table with links to the corresponding bills.
PFAS Bans That Apply to Cosmetics Along With Other Products
There has been a recent upswing in legislative pushback to the use of PFAS. In addition to the laws noted above that ban PFAS alongside other chemicals for use in cosmetics, a number of states have passed, or are in the process of creating laws that specifically ban intentionally added PFAS. These laws often break down the ban into categories of products to which the ban will apply. For example, the Minnesota law states, "Beginning January 1, 2025, a person may not sell, offer for sale, or distribute for sale in this state the following products if the product contains intentionally added PFAS" and then proceeds to list categories of products, specifically including "cosmetics." The following tables list laws that either:
ban intentionally added PFAS specifically in cosmetics,

 ban intentionally added PFAS in certain categories including cosmetics, or

ban intentionally added PFAS in all products.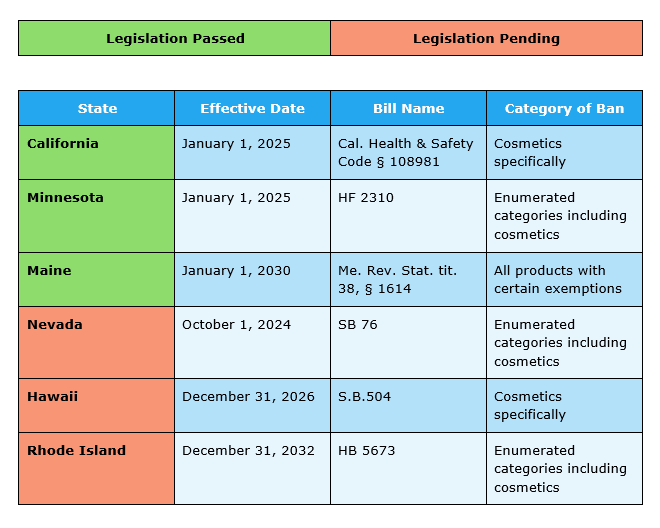 Click here for an identical table with links to the corresponding bills.
The Nevada law was passed by the Nevada Legislature but was vetoed on June 16th and has been returned to the legislature.
B&D continues to monitor these legislative developments and advise clients on the impacts and responsive strategies.
More from Beveridge & Diamond PC