New Fatigue Reports Awaken Employers to Injury Risks
The National Safety Council (NSC) estimates that roughly 13 percent of workplace injuries are attributable to sleep problems, causing an economic impact of $400 billion. NSC information suggests that employers with 1,000 employees could incur losses of more than $1 million per year in missed workdays, lower productivity and increased healthcare due to employee fatigue.
But rather than merely provide a bunch of statistics and projections that could put you to sleep, the NSC is providing possible solutions to combat the risk in its new report Managing Fatigue: Developing an Effective Fatigue Risk Management System.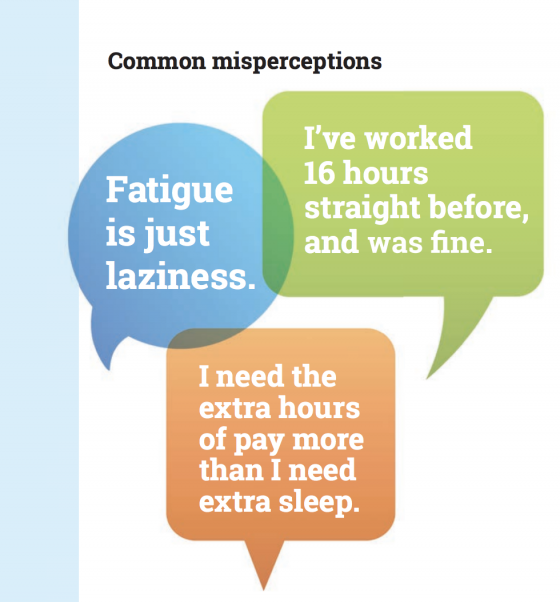 According to the report, a workplace culture that rewards or tolerates fatigue can indirectly lead to on-the-job injuries. In some high-performance cultures, employees may view fatigue as a sign of weakness or laziness. They may be committed to getting the work done despite long hours, even believing that fatigue doesn't affect them.
"In our 24/7 world, too many employees are running on empty," said Emily Whitcomb, NSC senior program manager for fatigue initiatives. "Employees are an organization's greatest asset, and addressing fatigue in workplaces will help eliminate preventable deaths and injuries."
Strong fatigue risk management systems blend employee education and training with improvements to workplace environments, culture change, and data-driven programs. But implementing a fatigue risk management system is not an easy sell — to the C-suite nor and possibly to employees as well. The report suggests:
It is important that the fatigue management process be transparent and that appropriate information is shared throughout the effort to obtain buy-in from all levels of the organization. Providing open forums that allow employees to share how fatigue affects them is one way to get engagement from the outset.
The NSC lists key components in creating a fatigue risk management system:
Education and training. This raises awareness of risks, create motivation to prioritize rest, and provide information on how to manage fatigue and get proper rest.
Policies and practices. Clarify roles and expectations and institute policies and practices for hours of work and rest based on science that recognizes the physiological need for sleep and circadian rhythms.
Shared responsibility. Employers and employees should cooperate when it comes to understanding the sleep needs of the employee, while the organization should expect output from a well-rested worker.   
Fatigue mitigation. A workplace with positive environmental controls promotes better overall working conditions and should be less physically stressful in ways that contribute to on-the-job fatigue.
Data-driven programs and continuous improvement. With the system in place, seek employee feedback, facilitate monitoring mechanisms, check the data and apply lessons learned. Understand why the system was or was not successful and modify from there.  
Complementary to Managing Fatigue, the Campbell Institute – the center for environmental health and safety (EHS) excellence at the NSC – released results from a pilot study conducted among renowned safety organizations to assess worker fatigue and effective countermeasures. In Understanding Fatigue Risk: Assessment and Countermeasures, the Institute identifies a persistent gap between how employers and employees view fatigue and argue for changing a culture to enhance safety.
According to the study, about one-third of workers surveyed reported sleeping between one to five hours per weekday, and not the expert-recommended seven to nine hours.
"This indicates that a large proportion of workers at these sites are chronically sleep deprived, which when coupled with longer work days and work weeks than scheduled means that the risk of a fatigue-related injury is significantly increased," the report said.
Additional information about workplace fatigue is available at nsc.org/fatigue.
Fatigue in National News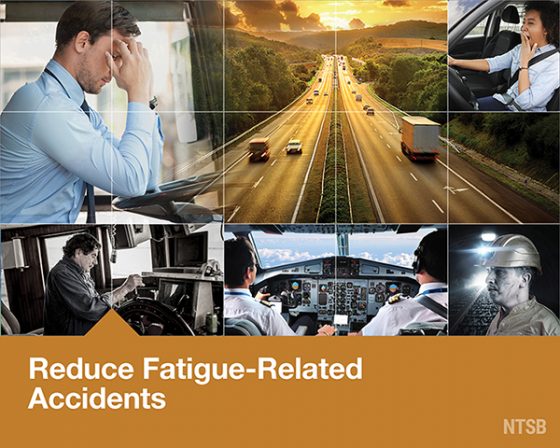 The timing of these reports should be welcome news for employers. Earlier this month, the National Transportation Safety Board (NTSB) unveiled its 2019-2020 Most Wanted List of Transportation Safety Improvements. One of the 10 items included the need to "Reduce Fatigue-Related Accidents."
The NTSB's Open Safety Recommendations describes fatigue as "a pervasive problem in transportation that degrades a person's ability to stay awake, alert, and attentive to the demands of safely controlling a vehicle, vessel, aircraft, or train." There are currently 27 open recommendations for railroad, aviation, highway and marine operators in an effort to curb fatigue-related accidents.
"We do not simply come up with these recommendations based on a whim," NTSB chairman Robert Sumwalt said during the list's unveiling in Washington, D.C. "It's a data-driven approach based on the results of our investigation and the tragic and senseless deaths we investigate."
Risk Management Magazine and Risk Management Monitor. Copyright 2023 Risk and Insurance Management Society, Inc. All rights reserved.
National Law Review, Volume IX, Number 52