Declaratory Judgment Action Filed Over Trailer Hitch Products
On November 16, 2012, Atlanta-based Tie Down, Inc. ("Tie Down") filed a declaratory judgment action against Demco, Inc. ("Demco"), based in Des Moines, Iowa, asking the Court to declare that its trailer hitch and integrated actuator products do not infringe Demco's U.S Patent No. 7,690,673 (the '673 patent), entitled "Self-Latching Ball Clamp Coupler," and that the '673 patent is invalid.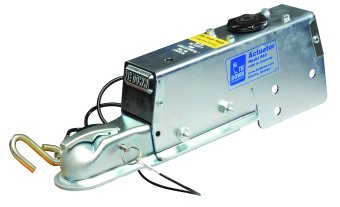 Tie-Down's Model 600 Brake Actuator 
Tie Down and Demco are competitors that sell, among other things, trailer hitch products for boat trailers and other kinds of trailers.  Tie Down claims that Demco has alleged that Tie Down's Model 600, Model 700, and Model 800 trailer hitch and integrated actuator products infringe the '673 patent, and that Demco has contacted Tie Down aiming to prevent further sales of these products.  According to the complaint, in early November 2012 Kevin Ten Haken, Demco's executive vice president, contacted Tie Down and demanded that Tie Down cease offering for sale certain trailer hitch products that allegedly infringe the '673 patent.  In addition, Tie Down alleges that in February 2012 at the National Association of Trailer Manufacturers trade show, a Demco representative told a representative of a third party, Ranger Boats, that one or more of Tie Down's trailer hitch products infringed the '673 patent.  Taken together, Tie Down alleges that Demco's conduct has created a reasonable apprehension on the part of Tie Down that Demco will initiate a patent infringement suit such that there is an actual and justiciable controversy between the parties.
Tie Down seeks a declaration and judgment that it has not and does not infringe any claim of the '673 patent and that the claims of the '673 patent are invalid. Tie Down also seeks a finding that the case is exceptional and a judgment awarding Tie Down its attorneys' fees and costs under 35 U.S.C. § 285.
The case is Tie Down Inc. v. Demco, Inc., Case No. 1:12-cv-4007-SCJ, U.S. District Court for the Northern District of Georgia, Atlanta Division, and is assigned to U.S. District Judge Steve C. Jones. 
Note: Thanks to Nick Vaughan for his assistance in preparing this post.
Copyright © 2021 Womble Bond Dickinson (US) LLP All Rights Reserved.
National Law Review, Volume II, Number 331